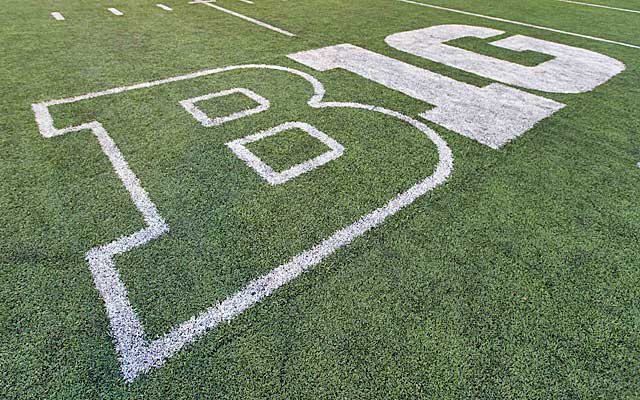 More college football: Jon Solomon | Dennis Dodd | Latest news
As expected Thursday, the NCAA Division I Board of Directors passed a new model giving the five major conferences authority to create some of their own legislation and voting rights for athletes.
By a 16-2 vote, the NCAA adopted the Division I model released to its members last month. Division I board chairman Nathan Hatch, president at Wake Forest, said the vote "marks a significant step into a brighter future for Division I athletics."   
What does all of this mean? Some questions and (attempted) answers:
Q: What does "autonomy" mean for the Power 5 conferences and why is it happening?
It lets the SEC, ACC, Big Ten, Pac-12 and Big 12 create their own rules — other conferences can adopt them, too, if they want — in certain areas to benefit college athletes. Leaders of the major conferences say they have the resources to provide more to athletes and have tried for years but get blocked by smaller schools. External pressure by lawsuits and Congress has also forced the issue.
Q: Is autonomy a done deal for the Power 5?
Not quite yet. Over the next two months, Division I schools have a chance to veto the new model. At least 75 schools would to vote for an override to require the board to reconsider, and 125 schools are needed to suspend the change until the board meets to reconsider. Many people in college sports believe there won't be enough votes to kill the new model.
There was one new wrinkle added to the model. The board reduced the number of conferences required to sponsor a proposal within the Power 5 from three conferences to one. "Any amendment is subject to approval by a five-conference presidential group before consideration by the full voting group," the NCAA release stated.  
Q: How will the Power 5 get legislation passed?
Now comes the heavy lifting. The next step is the five major conferences creating a process for them to introduce and vet their own legislation. The Power 5 will submit their own legislation for consideration by Oct. 1 that could be adopted at the January NCAA convention for 2015-16.
There will be two ways to pass new rules: Get 60 percent of all the votes from 65 school representatives and 15 athletes plus a simple majority from three of the Power 5 conferences; or get 51 percent of the votes and a simple majority from four of the five Power 5 conferences.
Q: Will Power 5 schools disagree among themselves?
A: Yes. There's a perception by some in the public that all 65 Power 5 schools are on the same page with every issue. That's not the case. The issues being discussed contain have vs. have-not elements within the major conferences as well, not just in all of Division I. Still, conference commissioners and presidents can corral 80 like-minded votes easier than trying to change the majority of Division I.
Q: What about NCAA issues that don't fall under autonomy?
Some issues, such as transfer eligibility rules, enforcement and scholarships limits, remain governed by both the Power 5 and the rest of Division I. For those issues, there's weighted voting by a new body called the Council, which becomes the primary legislative arm and largely includes athletic directors, who felt left out of the old system. The Council -- which in "inside baseball" lingo is the old NCAA Leadership and Legislative councils -- consists of 32 conference representatives, four conference commissioners, two athletes and two faculty.
The weighted voting breakdown: 37.5 percent for the Power 5 conferences; 18.8 percent for the five remaining FBS conferences; 37.5 percent for the FCS and non-Division I football conferences; 3.1 percent for college athletes; and 3.1 percent for faculty athletic representatives. It's the first time athletes have a vote. Some Division I members were upset there's weighted voting on issues deemed to be of equal concern to all NCAA schools, but they didn't have much leverage in these negotiations. The smaller schools needed to keep the Power 5 happy because they're subsidized in large part by the NCAA Tournament, which generates billions of dollars largely from the Power 5 schools' market power.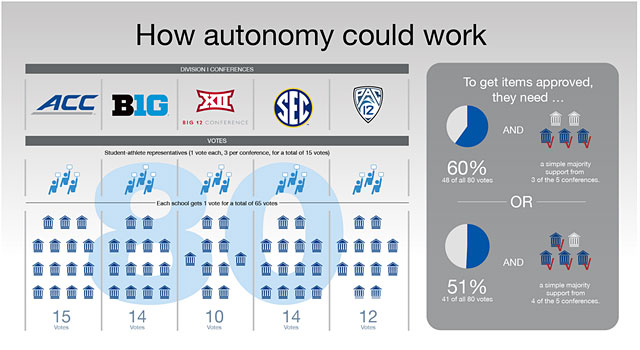 Q: What issues will the Power 5 tackle on their own?
The first big one is a cost of attendance stipend to cover the gap between an athletic scholarship and what financial aid offices determine to be the actual cost of attending college. Other topics could include medical coverage for athletes, time demands on athletes, allowing schools to pay for athletes' families to attend games, loosening the rules on contact between athletes and agents, and putting in dead periods when athletes can't officially workout at their school.
Q: Does the Division I board change?
Yes. In the old 18-person model, there were 11 FBS presidents and seven FCS presidents on the board. The new 24-person model has 10 FBS presidents, five FCS presidents, five Division I presidents at schools without football, one athlete, one athletic director, one faculty athletics representative and one senior women's representative.
Q: Will new rules create further separation between the haves and have-nots?
It's quite possible. The Power 5 schools will be able to offer benefits to recruits that other schools may feel like they can't afford. But even many of the so-called have-nots acknowledge there's already a significant competitive gap and the best recruits tend to choose those schools anyway. Some critics of the model have complained the Power 5 schools were the ones who led the NCAA down this path by commercializing college sports for so many years.
Q: What's the timeline for changes to happen based off this new model?
Change is slow to occur in bureaucracies and the NCAA is no different. The NCAA says it's moving toward full implantation of the new model by mid-2015. In January 2015, the Power 5 representatives will conduct a business session on autonomy. The new Division I board and Council members start their terms in September 2015. The deadline for all proposals under the new structure is Sept. 1, 2015, and the Council casts its first votes in April 2016.
In a new twist, NCAA rules will now only be adopted in April, not April and January. If a rule change is defeated, it can't be considered again for at least two years.
Q: Will any of this stop the external pressures facing the NCAA?
Not likely. Even some critics of college sports acknowledge the new model seems to be a step in the right direction for the NCAA, although the devil is in the details and legal threats and Congressional scrutiny won't stop.
U.S. Sen. Orrin Hatch (R-Utah) issued a statement Thursday saying the NCAA's new model may warrant Congressional review from the Senate Judiciary Committee, of which he is a member.
"The NCAA should be responsible for promoting fair competition among its participating institutions and their student athletes," Hatch said. "I am concerned that today's actions could create an uneven playing field that may prevent some institutions from being able to compete fairly with other schools that have superior resources to pay for student athletes. I also worry about how this decision will affect a school's Title IX requirements and whether this consolidation of power will restrict competition and warrant antitrust scrutiny."
Ramogi Huma, executive director of the National College Players Association, said in a statement that autonomy is "not necessarily altruistic." Huma said many of the reforms being discussed could already have been done, such as improving medical coverage and extending scholarships for degree completion. "The autonomy has a lot to do with the fact that players have backed them into a corner as well as the money that the power conferences don't want to share with the other Division I colleges," Huma said.
The battles aren't over. Still, it's a significant day for the NCAA by changing its model.