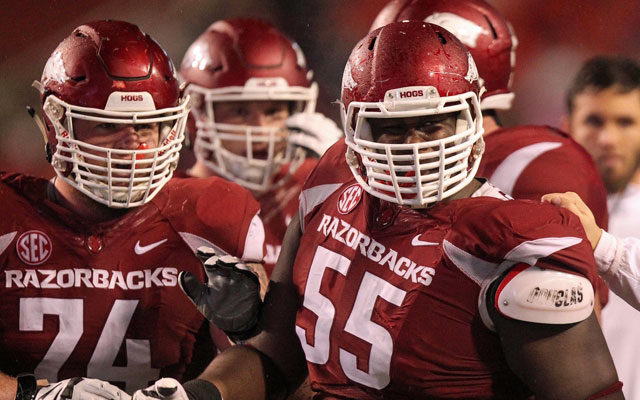 In a crowded postseason award landscape, there is room for a bunch of offensive linemen.
The Joe Moore Award was announced Monday morning as an honor that will recognize "the toughest, most physical offensive line unit in the country," according to the release. Moore was long-time offensive line coach at Pittsburgh and Notre Dame.
The award was created with the help of former Notre Dame All-American offensive guard Aaron Taylor, who played for Moore. Taylor is college football analyst for CBS Sports.
The release states Moore is "widely regarded" as the best offensive line coach in the history of the sport.
Taylor said the award, "will be the most credible recognition of the offensive line position in the history of the sport." A committee of voters -- not yet assembled -- will be made up of all 128 FBS offensive line coaches, media members who played offensive line (example: Mark May) and a "legacy committee." That includes colleagues of Moore and players who were coached by him.
Five finalists will then be evaluated by the select group, which will evaluate game tape and highlights.
"I don't think any other award has gone to this length to ensure that its finalists were this fairly represented …," Taylor said. "In short, we felt that game tape was the best (and only fair) way to determine the winner of this award. Watching tape is something all of the voters enjoy doing anyway."
Moore coached 52 future NFL offensive linemen before his death in 2003 at age 71. At Pittsburgh, he coached offensive line greats Bill Fralic, Russ Grimm, Jimbo Covert and May. Taylor was a unanimous All-American under Moore at Notre Dame.
"My dad lived life in the trenches, with his players and for his players, and embraced the anonymity of the position." said Joe Moore, John's son. "In that sense, he probably would not be comfortable with his name being on anything, let alone a trophy. But the Joe Moore Award is a great tribute to the very things that define football as a sport: toughness and teamwork. He would have loved being associated with the only college football award to recognize a unit that embodies those principles."
A weekly honor roll of the best offensive lines will be released each Monday beginning Sept. 7 by The Joe Moore Foundation for Teamwork. Semifinalists will be announced Nov. 16 followed by finalists on Nov. 30. The winners will be announced in late December.
The Joe Moore Award becomes at least the 25th postseason college football award. Three existing awards -- Lombardi, Rimington, Outland -- all potentially go to offensive linemen.
The Rimington is handed to the game's best center. The Lombardi is awarded to the best lineman on either side of the ball, while the Outland goes to the best interior lineman on either side of the ball.
The Moore Award is believed to be the only such honor that recognizes an entire unit.
"There is no greater joy in life," Moore was once quoted as saying, "than moving a man from Point A to Point B … against his will."