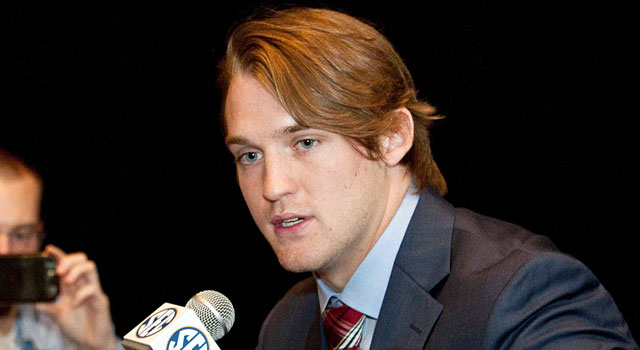 More CFB: Media picks Bama to win SEC | Latest CFB news, notes
HOOVER, Ala. -- Former UConn guard Shabazz Napier's comments in April about NCAA players going to bed hungry elicited sympathy from some, skepticism from others (quietly, many athletic directors).
Ole Miss quarterback Bo Wallace says Napier's concerns are real.
He's seen it.
When asked about player rights and what's important to him, Wallace said a $1,000 scholarship check barely gets players through the month. They need more, he says -- and a cost-of-attendance stipend would be a start.
The NCAA recently passed a rule allowing unlimited meals, something of which Ole Miss AD Ross Bjork, who's proactive for student rights, will certainly exercise.
"A lot of guys go to bed hungry at night. That's real," Wallace told CBSSports.com from Thursday's SEC Media Days session. "We have our breakfast and lunch. Our cafe is open, so you can go and swipe your card, but dinner you have to pay for it...We need more compensation for that just to be able to survive. If I didn't have my parents I don't know what I would do. A lot of these kids don't have the same things that I have. I know that their struggle is something terrible. The cost of attendance, if they could just give us that, I think everybody would be OK."
Wallace even wonders how players with minimal resources pay for the suits and ties they must wear to media days. Schools can tap into a special assistance fund for help cover player expenses for special events. "A lot of guys don't have the money to go pay for it," he said.
Since the NCAA does not allow players to capitalize off endorsements, Wallace would like to see flexibility there. Litigation and threats of unionization have arisen over issues such as these.
"People might buy that 14 jersey because they want my jersey or something," Wallace said. "If we can have a portion of jersey sales or something like that, it would be great."