Fantasy Baseball: Yoenis Cespedes' return casts doubt on Jay Bruce's future, but Chris Carter's is even more up in the air
The Mets agreed to a four-year deal with Yoenis Cespedes, but Scott White says that wasn't the most notable Fantasy Baseball development Wednesday. Chris Carter is now up for grabs.
Four more years! Four more years!
That's what the New York Mets agreed to give Yoenis Cespedes Tuesday, to the delight of their fan base.
For the rest of us, though, this deal is a yawner. One of the few marquee free agents of this year's class is staying exactly where he was. Wake us up when Chris Sale is traded.
The Fantasy implications are minimal. Cespedes loses the element of uncertainty that comes with a change in environment, which makes him safely a top-15 outfielder heading into 2017. Jay Bruce will likely be on the move so that the Mets aren't stuck playing one of Cespedes and Curtis Granderson in center field again. Michael Conforto will have to continue to bide his time in the minors, not that he'll be particularly missed after hitting .220 this year.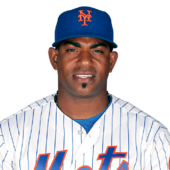 Yoenis Cespedes
OF / New York Mets (2016 season)
BA:
.280
HR:
31
RBI:
86
R:
72
OPS:
.884
Cespedes is the second of their free-agent bats that the Mets were able to lure back this offseason, following Neil Walker . The Walker signing wasn't entirely deliberate -- he accepted to the Mets' qualifying offer -- but however it happened, by keeping the middle of the order intact, the Mets' addressed their biggest offseason concern and ensured they'll have something to back up what should be a healthier (and presumably more effective) starting five of Noah Syndergaard , Jacob deGrom , Matt Harvey , Steven Matz and Zack Wheeler . They'll remain a force in the NL East.
But again, it's hardly a game-changer in Fantasy. The more significant development, even if it wasn't as noteworthy, came earlier Wednesday when Milwaukee Brewers agreed to three-year deal with former Blue Jay Eric Thames, making him their new first baseman.
What was wrong with their old one? Chris Carter only led the NL with 41 home runs in 2016, after all. But being the truest of three-true-outcomes players, he hit only .222 and was a defensive liability even at first base. We'll see where he ultimately lands, of course, but as of this moment, you can't count on him being your late-round home run fix.
What about Thames, then? You can understand the Brewers' interest, given what he did in Korea: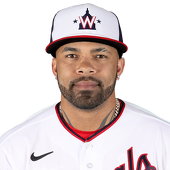 Eric Thames
OF / Milwaukee Brewers (2016 KBO)
BA:
.317
HR:
40
OPS:
1.101
BB:
74
K:
103
But there's a reason he went there in the first place. And you may remember Byung Ho Park put up some sinister numbers in that same league: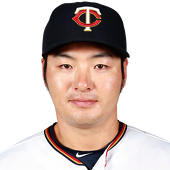 Byung Ho Park
1B / Minnesota Twins (2015 KBO)
BA:
.343
HR:
53
OPS:
1.150
BB:
78
K:
161
Then again, Jung Ho Kang has worked out OK, so who can honestly say? It's impossible to project how the numbers will translate from that league given the limited number of data points, so we have to rely on more subjective assessments. We do at least know that the Brewers are confident enough in Thames to guarantee him three years at the expense of a proven slugger who seemed well worth the $9 million he was set to make in arbitration. That's enough to at least get him drafted in mixed leagues, right?
He won't quite crack my top 60 outfielders (the position where he's eligible), which puts him out of starting range even in 12-team, five-outfielder leagues, but you won't find many 30-year-olds who offer as much promise in the late rounds.
The end of the regular season makes for some curious pitching choices, which of course only...

Final week of the season means things aren't going to go as planned, and that's certainly the...

Is Hunter Renfroe's three-homer game reason enough to add him? Scott White says now may not...
Scott White assesses Adrian Beltre's unexpected return from a "season-ending" hamstring injury...

The Twins have terrific matchups in Fantasy Week 25 (Sept. 18-25), as do the Athletics and...

As the number of six-man rotations increases and the off days become more frequent, a quality...