WATCH: Phil Mickelson chases down, kicks drone camera at 2015 US Open
Phil Mickelson had some fun with one of Fox's drones during Round 2 of the 2015 US Open.
• 1 min read
>> FOLLOW LIVE: Leaderboard | How to Watch Round 3 | 10 Thoughts on Round 2
Despite Phil Mickelson's current unfortunate position on the 2015 US Open's leaderboard, he seems to be having an OK time at Chambers Bay.
On Friday, Mickelson -- T42 after 15 holes -- spotted Fox's drone camera. So, naturally, he ran it down. 
(Side note: Yes, Fox has drone cameras. In the air and on the ground. The latter look like this.)
Check out @FOXSports rolling drone on the 9th green at #ChambersBay #USOpen Also seeing flying drones as well today. pic.twitter.com/rY7tUUGsAV

— Play Chambers Bay (@playchambersbay) June 16, 2015
Anyways, after Mickelson reached the drone camera, he decided to give it a light kick -- you know, because there's nothing like kicking some expensive technology.
Lefty's out here kicking drones. pic.twitter.com/BYeS6qX0t8

— Robby Kalland (@RKalland) June 20, 2015
The machinery appeared to survive.
Wink of the CBS eye to For The Win for the GIF.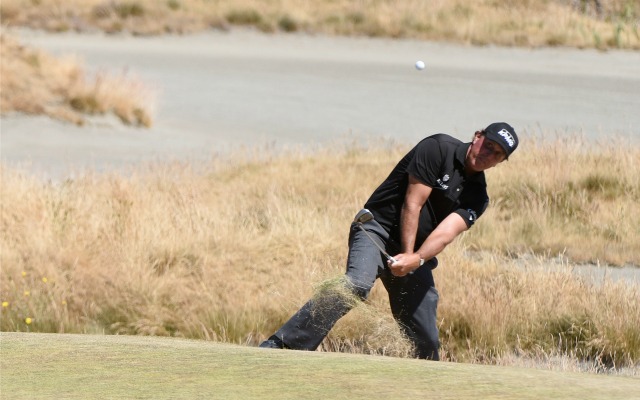 Big Cats odds are dropping as good news continues to come out of his camp

You won't be able to stop watching this video of a golfer hitting a low drive with a putte...

All the aces and hole-outs over the years have been pretty amazing
From one former No. 1 player in the world who has struggled with injuries to another

Two of the top players in the world are headed down under this week

Please do not try this at home