Last February, I started what I hope to make an annual tradition here at CBS Sports. We take a look at the gambling numbers for the season, specifically the team over/under lines on total wins for the season, and pick five for each side. Regardless of league, let's pick five to hit the over and five to hit the under.
Here are the over/unders in regular season wins via Bovada:
First impressions: I love that we can't have a push this time around (more on that in a second), as thankfully every single line has a half. Also, I love the huge divide in the NL compared to how obviously wide open the AL is.
And now my picks.
The Overs
Royals (over 85.5) - No need to rehash, I've covered this plenty already.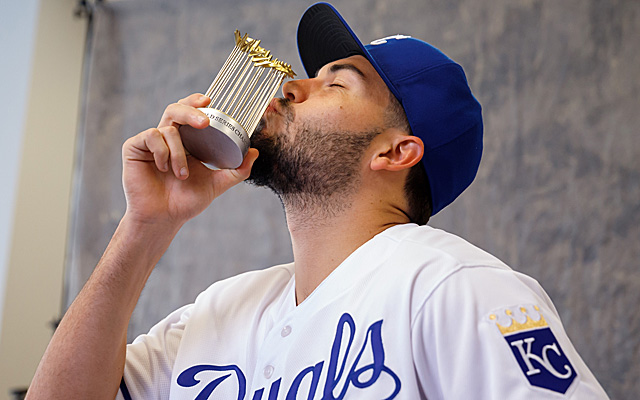 Cubs (over 92.5) - It's always a bit bold to take the over on the team listed to have the best record -- I did it last year and missed badly -- but the Cubs won 97 games last year and are better and more experienced in many areas where it matters. Sure, they could win "only" 92 games and take the World Series and I'd still lose this bet, but I'm guessing they settle into the mid-90s, giving me a winner.
Diamondbacks (over 82.5) - They won 79 games last season with a great offense and terrible starting rotation. They added Zack Greinke and Shelby Miller while Patrick Corbin should have a full season of health in his second year back from Tommy John surgery. There are some concerns about regression from several bats (David Peralta, Welington Castillo), sure, but I'm not buying this total pushback against Arizona as a fringe contender. They can get into the mid-80s in wins as the third best team in the NL West.
Rangers (over 84.5) - The only time they haven't won more than 84.5 games since 2008 was when they were historically decimated with injuries in 2014. Last season, they won 88 games with 22 combined starts from Yu Darvish (zero), Cole Hamels (12) and Derek Holland (10). Full seasons from all three mitigate the loss of Yovani Gallardo and I expect them to settle into a wild-card team with something in the range of 89 wins.
Astros (over 87.5) - If the Rangers are going to win 89 games and be a wild card, that means I might as well make the Astros my fifth over here.
The Unders
Cardinals (under 87.5) - This was a tough one because they overcame so much last season to get to 100 wins. Some of that was in overachieving in terms of run prevention and they lost their best rotation performer (John Lackey) and best on-field defender (Jason Heyward). A full season of Adam Wainwright is a huge boost, of course, but Carlos Martinez, Michael Wacha and Jaime Garcia are durability concerns in the rotation. They feel like mid-80s to me.
Orioles (under 79.5) - Three of the top four teams in baseball in runs per game were the Blue Jays, Yankees and Red Sox. None of the three look measurably worse on offense this year and the Orioles are going to run out a pretty lackluster rotation. Other than the Manny Machado-Adam Jones-Chris Davis trio, the offense isn't overly exciting, either. I hate going against the wizard Buck Showalter, but I'm seeing last place and 72-76 wins.
Twins (under 78.5) - They went 83-79 last season, but also allowed more runs than they scored. They'll have a full season of Miguel Sano, maybe Byron Buxton sticks his second time around (remember, Mike Trout sucked in his first MLB stint), Byung-ho Park has been added and a full season of Ervin Santana should help the rotation. So why are they not an over? Well, they have a real tough division, the rotation is lacking and I'm not buying what they did last May, when they were 20-7. Aside from that, they were well under .500. There's more work to be done here, even if there are plenty of reasons to be excited for the future.
Angels (under 81.5) - With a rotation that leaves a lot to be desired and four productive position players (Mike Trout, Kole Calhoun, Andrelton Simmons, Albert Pujols), I think the Mariners end up passing the Angels for third place. While it's possible to have four winning records in the same division, I don't see it as likely. Thus, the Angels are an under here.
Reds (under 70.5) - I just can't see them getting to 70 wins. They were 64-98 last season -- after starting 4-0, mind you -- with 19 starts from Johnny Cueto, a full season of Aroldis Chapman, a huge first half from Todd Frazier, etc. Joey Votto is still a beast and a bounce-back from Devin Mesoraco will help. I do like the potential of Anthony DeSclafani and Raisel Iglesias in the rotation, but overall this team is quite a bit worse to start this season than they were last year.
--------------
Now, I said last year that we'd revisit how everyone did and we are going to do that.
Some people forgot to pick 10 total while many of us (yes, us) picked the Indians for one or the other and they pushed. A funny note about that is the over/under was 81 and they went 81-80. Had they made up their 162nd game and won it, many of our records could look a slight bit better.
Our champion was Adam Stein, who went a ridiculous 8-2. Hopefully you put your money where your mouth was somewhere, if legal, Adam. Further, hopefully you come back to defend your title.
The rest?
P***DOG111, 7-2-1
tripp-1, 7-3
Jctiger5188, 6-2-1
Canada12, 6-3-1
DarkSky623, 6-3-1
JesseDruc, 6-3-1
horsesnecktie, 6-4
Matt Snyder, 5-4-1
EZEebs, 5-4-1
Matka VII, 4-4-1
GHest01, 5-5
Slasher, 5-5
Robin Hood 999, 4-6
BaseFan56, 4-6
HavocScout20, 4-6
51jeffok, 4-5-1
Remember1969, 4-5-1
Jerry the K, 4-5-1
almantle, 4-5-1
jawga, 3-6-1
soppressata, 3-7
67RedSox, 2-6
Redsfan1507, 2-7-1
"Julius" technically came in last with this comment:
I'll bet the White Sox over 5 times.  I'll bet the Twins under 5 times, because some team has to be VERY bad.
Ouch. That's 0-10.
Anyway, remember to submit your picks for five unders and five overs below in the comments and I'll check in again next year with the leaderboard. Good luck to all -- well, everyone who doesn't make an ignorant "how do you have a job?" comment about me not having the best record in last year's contest.