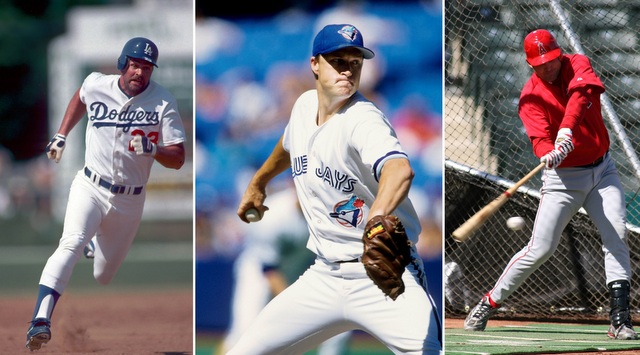 More MLB: Scoreboard | Standings | Probable Pitchers | Sortable Stats | Odds
Next Tuesday, 70 of baseball's very best players will get together at CitiField in New York for the 2013 All-Star Game. There will be first-time All-Stars and longtime All-Stars, players enjoying legitimate breakout seasons and others who are having fluke seasons. The Midsummer Classic always offers variety.
Every year there are snubs, however. Over the years, the snubs accumulate. There are a number of legitimately great players who were simply never elected or selected to an All-Star Game. Maybe they were underappreciated, or maybe they were "blocked" at their position by some historic greats. These players are a snubbiest of the snubs and the guys whom we want to celebrate today.
Before we get into the all-time Never-Been All-Star Team, I have to point out that the first All-Star Game was played in 1933. Hall of Famers like Ty Cobb, Honus Wagner, Walter Johnson and Cy Young never appeared in an All-Star Game because there was no All-Star Game at the time. Those guys don't count for this post; we're only looking at players from 1933 through the present.
With a huge assist from the indispensable Baseball-Reference Play Index, here's the all-time Never-Been All-Star Team:
Catcher: Rick Dempsey (25.4 WAR)
Quality catchers are so rare that most have appeared in at least one All-Star Game at some point. Dempsey is the exception. The longtime Orioles backstop hit .233/.319/.347 (87 OPS+) in parts of 24 big league seasons with six teams from the late 1960s to the early 1990s. During his peak in the early 1980s, he managed a 94 OPS+.
First Base: Earl Torgeson (32.9 WAR)
Torgeson played from 1947-61, mostly with the Boston Braves. During his peak from 1947-51, right after he returned from military duty, he hit .272/.389/.447 (127 OPS+) with 77 home runs. Torgeson is a career .265/.385/.417 (117 OPS+) hitter.
Second Base: Tony Phillips (50.8 WAR)
By WAR, Phillips in the best player in baseball history who never appeared in an All-Star Game. He also played more than 290 career games at four positions, but I'm sticking him at second because: a.) that's where he's needed, and b.) that's where he played most of his career games. Phillips hit .266/.374/.389 (109 OPS+) in parts of 18 years with six teams, but his best seasons came with the Tigers in the early 1990s: .281/.395/.405 (120 OPS+) from 1990-94.
Shortstop: John Valentin (32.5 WAR)
Good shortstops are like good catchers; most find their way into an All-Star Game at some point. Valentin never did despite hitting .303/.384/.492 (123 OPS+) with 67 homers for the 1994-97 Red Sox. He was a .279/.360/.454 (109 OPS+) hitter in parts of 11 seasons. Fun fact: Valentin led all position players with 8.3 WAR in 1995.
Third Base: Eric Chavez (37.0 WAR)
One of two active players on our team, Chavez is here because he hit .280/.357/.513 (127 OPS+) with 150 home runs while playing elite defense for the Athletics from 2000-04. Injuries completely sabotaged his career after that, though he has carved out a niche as a role player recently. Chavez is a career .268/.343/.477 (115 OPS+) hitter.
Left Field: Kirk Gibson (38.4 WAR)
Apparently one of the most famous home runs in baseball history was not enough to get Gibson to the Midsummer Classic. Gibson, a career .268/.352/.463 (123 OPS+) hitter in parts of 17 seasons with four teams, had his best years in the middle of the 1980s. He hit .282/.369/.500 (139 OPS+) from 1984-88 with the Tigers and Dodgers, winning the 1988 NL MVP award and taking Dennis Eckersley deep in Game 1 of 1988 World Series.
Center Field: Garry Maddox (36.7 WAR)
During his best years from 1973-78, Maddox hit .294/.341/.431 (110 OPS+) for the Giants and Phillies. He's not here for his bat, though (101 OPS+ in parts of 15 seasons); he's here for his center-field glove work. Maddox was an excellent fielder during his prime and is our ballhawk between the two big corner outfield bats.
Right Field: Tim Salmon (40.8 WAR)
It's hard to believe Salmon never once made an All-Star Game. He hit .282/.385/.498 (128 OPS+) with 299 homers in 14 big-league seasons, all with the Angels. During his prime (1993-98), he put up a huge .297/.398/.535 (140 OPS+) batting line with 177 homers. Pretty crazy that he never went to an All-Star Game.
Designated Hitter: Travis Hafner (25.2 WAR)
Outside of David Ortiz, Frank Thomas and Edgar Martinez, there haven't been too many really good DHs over the years. Hafner, who is still active, is the best full-time DH to never appear in an All-Star Game. He put up a ridiculous .308/.419/.611 (170 OPS+) line with 103 homers from 2004-06 for the Indians and is a .274/.377/.501 (135 OPS+) hitter in parts of 12 big-league seasons.
If I had those nine position players on my team at their peaks, this is the lineup I'd put together:
Phillips
Valentin
Gibson
Salmon
Hafner
Chavez
Torgeson
Maddox
Dempsey
Right-Handed Starters: Tom Candiotti (42.6 WAR) and Danny Darwin (40.6 WAR)
Candiotti (career 108 ERA+ from 1983-99) and Darwin (career 106 ERA+ from 1978-98) are, by far, the two best pitchers to never appear in an All-Star Game according to WAR. Candiotti had his big years with three teams from 1988-93 (74-67, 3.12 ERA) while Darwin had his best years with three clubs from 1986-93 (77-67, 3.35 ERA).
Left-Handed Starters: Fritz Ostermueller (34.5 WAR) and John Tudor (34.3 WAR)
These days, Ostermueller is probably most remembered as the "villain" in 42. You remember, the Dodgers pitcher who threw at Jackie Robinson's head and was eventually traded to the Pirates ("Pittsburgh???"), though, that is said to be a gross misrepresentation. Anyway, Ostermueller had a career 109 ERA+ in parts of 15 seasons, doing his best work with the Red Sox from 1934-38 (43-49, 4.30 ERA). Tudor was outstanding at the end of his career, going 66-29 with a 2.52 ERA for the Cardinals and Dodgers from 1985-90. His career ERA+ is 124.
Setup Men: RHP Mark Eichhorn (19.2 WAR) and LHP Paul Assenmacher (13.3 WAR)
One lefty and one righty for the sake of bullpen balance. Eichhorn flopped as a starter early in his career (142 ERA+ from 1982-96) before emerging as a relief ace with four teams from 1986-94 (2.81 ERA). Assenmacher did his best work with four teams from 1990-98, pitching to a 3.23 ERA. He has a career 118 ERA+ in parts of 14 seasons.
Closer: Mike Timlin (19.4 WAR)
Timlin, who pitched for six teams from 1991-2008, saved 87 games with a 3.31 ERA for three of those clubs from 1996-99. He did his best work as a setup man, but his overall body of work trumps those of the other Never-Been All-Star closer candidates. Timlin pitched to a 125 ERA+ with 141 saves in his career.