Quality Start? Introducing the 'Dominant Start'
There have been many efforts to improve upon the quality start statistic. Here's one of them.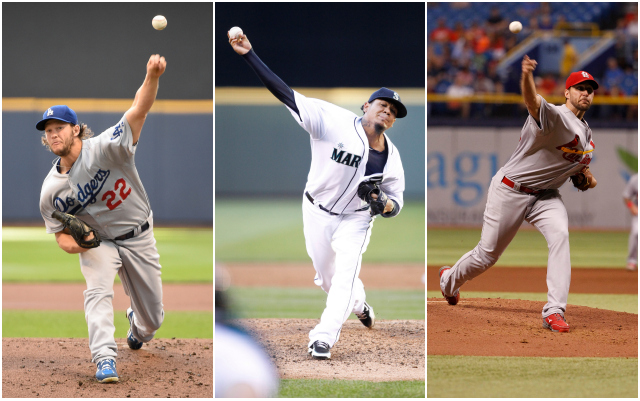 More MLB: Power Rankings | Expert Picks | Latest news & notes | Fantasy news
I like the quality start statistic as a quick-and-dirty tool. It has flaws, to be sure, but, again, when used as a blunt instrument it's reasonably illuminating when it comes to a starting pitcher's knack (or lack thereof) for not burying his team in the early innings. 
That said, the quality start has plenty of structural imperfections. For one, the bottom boundary of the quality start -- 6.0 innings pitched, three earned runs -- translates to a 4.50 ERA, which strains our notions of the word "quality" when it comes to run prevention. As well, going six frames is hardly making it deep into the game.
On another level, the "earned" qualifier is a problem. The ERA statistic is far too forgiving, given that it essentially absolves the pitcher of almost anything that happens after the commission of a fielding error. Errors themselves are additionally flawed in that they "reward" pitchers when a fielder botches a routine play but doesn't make such allowances for a pitcher when a fielder lacks the range to get to a batted ball in the first place. Decoupling pitching and defense is quite challenging, but the error rule does a particularly poor job of it. 
So we're looking for something simple and something that aims to isolate true dominance. To this end, we'll call it the "Dominant Start" (DS) instead of the quality start, and we'll say it's any start in which the pitcher goes 8.0 or more innings and allows no more than one run -- earned or unearned. So at minimum the starting pitcher must record 24 outs and pitch an ERA of no more than 1.13 (rounded up). That's true dominance, but the DS also makes room for outings that fall a bit shy of the complete-game shutout. 
To be sure, this doesn't correct for all of the shortcomings of the quality start -- the DS is not adjusted to correct for league and ballpark contexts (i.e., logging one in Dodger Stadium in 1968 is less impressive than logging one in Coors Field in 2000) or quality of competition. To repeat, though, we're trying to come up with something of an accessibility similar to that of the quality start. 
So, again: A dominant start is one in which the starting pitcher goes at least eight innings and gives up one or zero total runs. That means the worst-case scenario will often be his handing the ball over to the closer for a traditional ninth-inning save while having allowed only one run. In essence, the author of a dominant is giving his team what should be a ready-made victory. 
As it turns out, there have been 205 dominant starts this season -- or 5.75 percent of all starts in 2014. So the dominant start doesn't happen often. (Of note: This season, the team receiving a dominant start from its pitcher has won the game in question 87.3 percent of the time. Also, by my count in eight games this season each opposing starter has logged a DS, so in that sense the 87.3 WPCT understates things.) 
Now let's take a look at the pitchers who have compiled the highest number of dominant starts this year ... 
Dominant Start leaders, 2014
Rank
Pitcher
Dominant Starts
DS%
T-1.
Clayton Kershaw, Dodgers 
7
36.8%
T-1.
Adam Wainwright, Cardinals 
7
29.2%
3.
Felix Hernandez, Mariners 
6
24.0%
T-4.
Chris Sale, White Sox 
5
26.3%
T-4.
Yu Darvish, Rangers 
5
22.7%
T-4.
Jon Lester, Red Sox/Athletics 
5
20.8%
T-4.
Max Scherzer, Tigers 
5
20.8%
T-4.
Madison Bumgarner, Giants 
5
20.0%
T-4.
 Corey Kluber, Indians 
5
20.0%
T-4.
David Price, Rays/Tigers 
5
20.0%
T-4.
Julio Teheran, Braves 
5
 20.0%
(Note: DS% is the pitcher's Dominant Starts as a percentage of total 2014 starts.)
No surprise to see the most dominant pitchers in the game today peppering this list. It's also no surprise to see that Kershaw tops the loop when it comes to DS%. Rhetorical: Is Corey Kluber the most under-appreciated hurler in baseball right now? Just missing the list with four DS's each are Johnny Cueto, Mike Leake and Homer Bailey of the Reds; Dallas Keuchel of the Astros; and Kyle Lohse of the Brewers.
(Random back-testing note!: In his legendary 1968 season, Bob Gibson -- he of the 1.12 ERA that year -- notched a dominant start in 23 of 34 starts that year. In three of those DS's, he took the loss.) 
As you can see, the DS isn't a regular occurrence, even for the best pitchers in the world. Then again, if it were commonplace, then it wouldn't be genuine dominance.
So there are quality starts, and now there's the far more preferable subest of the dominant starts. It's the latter that says more about the pitchers who are truly performing at a high level. 
(Wink of CBS eye: The Baseball-Reference Play Index, which makes stuff like this possible)
Our Latest Stories
The Rangers' lefty and wife Heidi have done a very good deed

Will J.D. Martinez be Boston's next target?

Could catcher J.T. Realmuto be the next Miami player to be traded?
If the slow-play for Martinez, Hosmer and Arrieta sounds familiar, it should

The Nats will host the All-Star Game in 2018

The Orioles are looking to trade Machado heading into his walk year