Adam Silver: Ads on jerseys 'inevitable'
The NBA had a plan to put advertising on jerseys last season. But it fell through. Still, it's coming.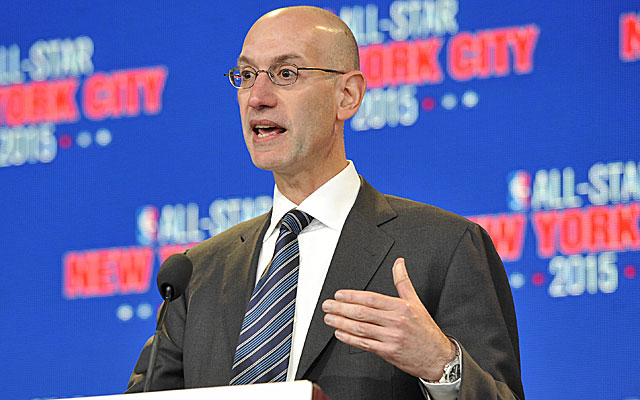 The NBA had a plan to put advertising on jerseys in the past few seasons. But it fell through.
Still, it's coming. And maybe soon.
"I think it's inevitable," commissioner Adam Silver said at a recent conference, via AdAge.com. 
"It just creates that much more of an opportunity for our marketing partners to get that much closer to our fans and to our players. It gives us an opportunity just to have deeper integration when it comes to those forms of sponsorship," Silver said. "Increasingly as we see Champion's League and English Premier League televised in the US, I think it's going to become more acceptable and more commonplace for our fans as well."
As for timeframe, Silver was asked if the change could come within the next five years to which he initially said "definitely," but then hedged by saying "most likely."
Two years ago, an estimate said advertising on jerseys could bring in an additional $100 million in league revenue. 
A pretty obvious working theory is the addition of more and more sleeved jerseys is due to the plan to implement adversiting on those sleeves. 
But money to be made, you can be sure that the NBA will be repping Coca-Cola or Verizon or whoever next to Lakers, Bulls or Heat. It's just a matter of time.
Nerlens Noel is now being represented by Rich Paul of Klutch Sports

Steve Kerr opens up about his back issues and more

OJ Mayo, banned from the NBA for positive drug test, is considering playing overseas
The King? 'LeBron, it turns out, is Aquaman,' or so the account via Dwyane Wade's wife goe...

From Penny to Thunder Dan to Pistol Pete to Agent Zero, guys who would be better in 2017

Griffin said recently he thinks it's more likely that LeBron James goes to New York than L...