The Baseline Awards celebrate the week that was and give you a track of where the awards are at throughout the NBA season. Some are serious, some are not, but all took way longer than necessary to compile. 
Eastern Conference Player of the Week: Ersan Ilyasova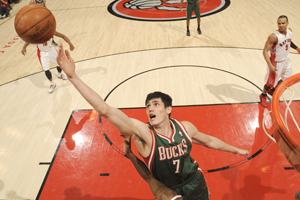 Frankensova destroy!
(Getty Images)
The man I call Frankensova was outright dominant this week. 25 points and 11 rebounds per game, the one bad game he had? He had consecutive tip-ins on two of his three rebounds for the night to help the Bucks put the Knicks away. Ilyasova considered just not returning stateside this year after playing in native Turkey during the lockout. Good thing he did as he's set himself up as one of the most valuable young players in the league. Ilyasova should get a world of trade interest this week but may have played himself into untouchable territory. Consider that the Bucks could move Andrew Bogut before Ilyasova. Wrap your head around that.
Western Conference Player of the Week: Steve Nash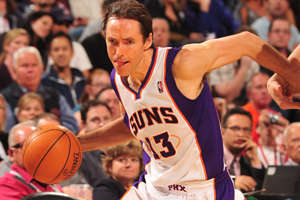 Steve Nash has the Suns pretending to be an actual team.
(Getty Images)
Double-digits points and assists, shooting 64 percent from the fields, dragging what is, let's not be confused, a truly terrible Suns team to a 2-1 record and five wins out of six. Nash continues to do this at age 38 and that's just phenomenal. The odds are very low that he'll be traded this week, and there's something really admirable about that from both the Suns and Nash. But we'll still be wishing we were able to see Nash bring the ball up in the playoffs again.
Dominator Award: Kyrie Irving
You had better pray the Cavaliers don't make the playoffs. They won't win. Not even close. They'll probably get swept. But you haven't seen a kid close out games like Irving does in a long time. He's a monster. Doesn't force things, either. Unlike Westbrook who charges in full-force, or even Rose at his age who was afraid of contact, Irving is able to slither and snake, absorb contact and finish. There are few more dangerous players than Irving right now.
The Horde Award: Team you should fear: Memphis Grizzlies
Sunday's win against Denver was ugly and notable only for one reason for Memphis. It's a game they should have lost that they won. Those are the kinds of games Memphis has never won in its franchise history. It's lost a ton of games they should have won. But they didn't play well, didn't execute, had too many turnovers, and still pulled out a win. Memphis is playing consistent basketball for the first time with this core, and the results are encouraging.
Oh, and have I mentioned Zach Randolph is due back any minute?
Cub Scout Troop Award: Team you should not fear: Dallas Mavericks
The Mavs are a total mess right now. Maybe the biggest problem is you can't point to any one thing. It's not the shooting or the defense or the ball movement or the effort or conditioning. It's some of all of that but more crucially it's that mythical "they're not playing well" element. Against Golden State, you could point to any number of things, but the fact remains Dallas just lost the game on a dozen fronts seemingly at once. It was close, and then it wasn't.
Jason Terry is talking about there needing to be changes with the roster. Lamar Odom has not recovered from... everything. The Mavs are on the precipice and right now Rick Carlisle is just trying to keep the bus from falling into the ravine.
The Bummer Award for Sadness: Ricky Rubio's injury
Against Los Angeles, Rubio had two separate plays where he threw the ball behind his back, off the ground, behind two defenders he'd already beaten, to a trailing player for a dunk. Twice. That's a play most players will never make in their careers, even point guards. I questioned whether Rubio could make it in this league, whether his style of play would translate, if he'd be able to survive against bigger, tougher opponents than he faced in Europe. He didn't just survive, he thrived. His injury is a shame not only for the Wolves, but for anyone who loves great basketball. Get well soon, rook.
The Grassy Knoll Award for Total Coincidence: Kobe Bryant
Kobe Bryant falls, lands on Andew Bynum, destroys his knee. Bryant drives, Rubio goes to meet him, Rubio tears his ACL (and gets called for a foul that was clearly a charge, but whatever). Bryant had nothing to do with Rubio's injury (there was no contact on Rubio's knee, it happened when he planted on the jumpstop) and basically nothing to do with Bynum's (and had absolutely no fault). But jeez, the guy's basically Poe's raven of knee injuries. Nevermore.
Searching For Bobby Fischer Award for Stratagem, Part 1: Doug Collins starting Evan Turner
Evan Turner was 1-12 in his first game starting. Doug Collins stuck with the youngster. Since then? 26, 16, 24, with rebound totals of 9, 12, 15 and over 3 assists per game. So many coaches would have just tossed Turner back into the comfort of the bench. But Collins stuck with his guy and walked away with sheer gold this week. It's not just about managing and growing younger players (Turner is 23), it's about giving them the opportunity to take that next step and not overreacting. Huge props to Collins for his approach.
Searching For Bobby Fischer Award for Stratagem, Part 2: Byron Scott turning Irving loose in the full court
With 15 seconds left, down 1, Byron Scott didn't advance the ball. He put his speedster, dagger-machine rookie point guard go the length of the floor for the game-winning bucket despite everyone in the building knowing who was taking the shot. And Irving worked his way past his man and a help defender, found a wide open lane and calmly nailed the game-winning layup. Onions. Coaches crave control in these situations. But Scott knew his biggest advantage was Irving's athleticism and ability and he put him in a position to capitalize on those gifts best.
Awkward Water Cooler Conversation Award for Coaching Struggle: George Karl
On that same play... all a big has to do is get in the way! Just flash at him, flinch at him, breathe at him. It's a tough situation because he can dump it off, he can drive and kick, and honestly, who goes the length of the floor on an attack? But having both Nene and Harrington essentially with their back turns as Irving hits the top of the arc is just a recipe for disaster. And they baked a cake out of it.
Much like the team they cover, this blog is deep. It has versatile content, great style, and a nice variety of voices. You know how good this blog is? They're pretty big on Win Shares which I loathe with a passion and yet they wind up convincing me on about 60 percent of their arguments. You need to be reading this blog. 
MVP Rankings1. LeBron James
: Oh, hey, look who decided to take the last shot? By the way, James could miss every game-winner from now till the end of the season and still be the MVP. That's how good he is. If you don't think that's true and it's all hype, I implore you to really sit down and watch one of his games and just see his impact at both ends of the floor.
2. Kevin Durant:
The things this kid is going to do to the league over the next four years is terrifying. He's honestly the most skilled offensive player in the league since Kobe Bryant.
3. Derrick Rose:
Nothing big for Rose this week, you know, just step-back jumpers for the win over Milwaukee. Kid sticks up for his team, too, which you have to respect.
4. Dwight Howard:
I'm moving Dwight up because he has made that much of an impact lately and I can't dock him for this trade ridiculousness and ignore his on-court play.
5. Kobe Bryant:
Slips a spot because of the inefficiency this week on the road. He gets points for playing through the injuries, as always. If he plays more like he did Sunday against Boston, in the flow of the offense, he could score fewer points and still move into the top three again.
6. Kevin Love:
Hey there, KLove. I've kept Love off this list this season for a myriad of reasons, but I'm atoning for that today with this spot, because that's honestly where he's at. When you look at what Love does on a night-to-night basis, the weaknesses are disappearing. Defense? He's engaged and sticking this year. He's not great, but he's competent. Passing? Superb understanding of how to move the ball and be the tip of the spear. And of course the scoring inside and out and the rebounding.
7. Chris Paul:
How can Paul be playing this well and the Clips be losing? Oh, the Clips. Right. Got it. Also, to be filed under "things I've been saying about Chris Paul's teams since 2009."
8. Tony Parker:
Parker's play hasn't stepped back much if at all, but his impact is. That's a good thing for the Spurs. That means they're getting contributions from more guys and that's better overall. He carried them throughout this season with Manu out, though.
9. Andre Iguodala:
Sit down and watch Andre Iguodala some time, and you're basically seeing LeBron Lite. His impact at both ends and ability to make the key play is phenomenal.
10. Dwyane Wade:
They have two guys on this list. Two.
Rookie of the Year Rankings1. Kyrie Irving:
Officially unofficially won the award Friday night when Rubio went down. Shame that's how it had to happen, but honestly, this has been done for a while. A phenomenal rookie year for Irving.
2. Ricky Rubio:
No one can be happy about this, if you love basketball.
3. Isaiah Thomas:
The underdog star Sacramento deserves. They've got something special in Mr. Irrelevant.
4. MarShon Brooks:
If he gets moved to a bad team where he gets lots of shots (as opposed to the Nets, a bad team where he gets some), he could put up some big numbers to finish the year.
5. Kenneth Faried:
One word. Manimal.
Coach of the Year Rankings:
1. Doug Collins:
Nikola Vucevic is a serious center in this league in his first year. Evan Turner has turned into a monster. Thad Young is looking complete. Their mistake margin is exceptionally low. Collins has this award running away.
2. Greg Popovich:
Manu's been out for most of the season, Duncan isn't anywhere close to his legend, DeJuan Blair and Matt Bonner are playing defense, and Danny Green and Gary Neal are serious contributors on a division leader. The man is incredible.
3. Tom Thibodeau:
You realize the Bulls have the best record in the league with Derrick Rose and Luol Deng having dealt with serious injuries? What?
4. Rick Adelman:
I wanted to get him on this spot before the Rubio injury saps the life of the team. Adelman hasn't just made this team better on the floor, he's changed the attitude and culture of the team and made them relevant. He's been a tour de force in Minnesota.
5. Lionel Hollins:
The Grizzlies are third in the West right now and have been without Zach Randolph the majority of the season. They win with versatility, commitment and smart play. There may not be a better motivator in the league right now.