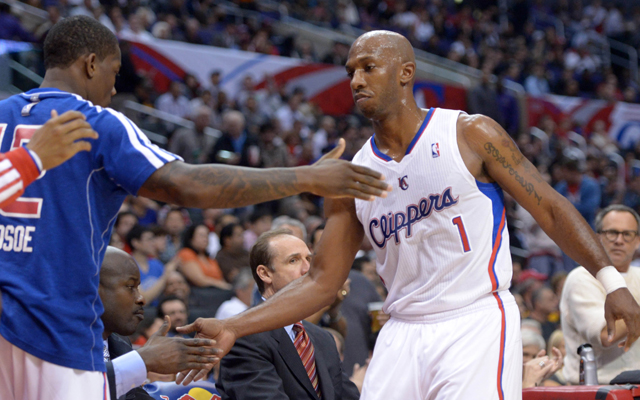 Los Angeles Clippers guard Chauncey Billups is the first winner of the Twyman-Stokes Teammate of the Year award, the NBA announced Sunday.
"I'm just very honored to be the first recipient of such a prestigious and great award," Billups said at Miami's American Airlines Arena before Game 2 of the NBA Finals between the Heat and Spurs. "This is an unbelievable honor for me to have my name alongside Mr. Twyman."
The winner was chosen from a vote of NBA players. Ballots featured 12 nominees, six from each conference selected by a panel of NBA legends according to selfless play, on- and off-court leadership as a mentor and role model to other NBA players and his commitment and dedication to his team.
Billups, a five-time All-Star, completed his second season with the Clippers, overcoming an Achilles injury the previous year to appear in 28 games, including all six of their postseason games. 
"Chauncey Billups defines what this award was designed to recognize, a player committed to his club, his teammates and his community," NBA Commissioner David Stern said. "He has mentored and guided countless young players to adopt his selfless attitude, dedication, passion for our game and to respect the history and example of players like Jack Twyman and Maurice Stokes."
The award is named in honor of Hall of Famers Jack Twyman and Maurice Stokes, who were teammates between 1955-58 for the Cincinnati/Rochester Royals. After a tragic fall in 1958, Stokes went into a coma and was left paralyzed. The fall also caused brain damage. Twyman became Stokes' legal guardian and even raised money for his care through charity basketball events as well as arguing for work-injury compensation.
Stokes died in 1970. 
"The story is the most unbelievable story I've heard in sports," Billups said. "For my name to be mentioned with [Twyman's], I almost don't feel worthy."
In this year's award voting, Billups totaled 1,543 total points, including 64 first-place votes. Heat forward Shane Battier finished second with 1,324 points (79 first-place votes), and recently retired New York Knicks guard Jason Kidd placed third with 1,048 points (42 first-place votes).
Other finalists for the inaugural Twyman/Stokes Award were Jerry Stackhouse (Brooklyn Nets), Luke Walton (Cleveland Cavaliers), Andre Iguodala (Denver Nuggets), Jarrett Jack (Golden State Warriors), Roy Hibbert (Indiana Pacers), Roger Mason Jr. (New Orleans Hornets), Serge Ibaka (Oklahoma City Thunder), Manu Ginobili (San Antonio Spurs), and Emeka Okafor (Washington Wizards).