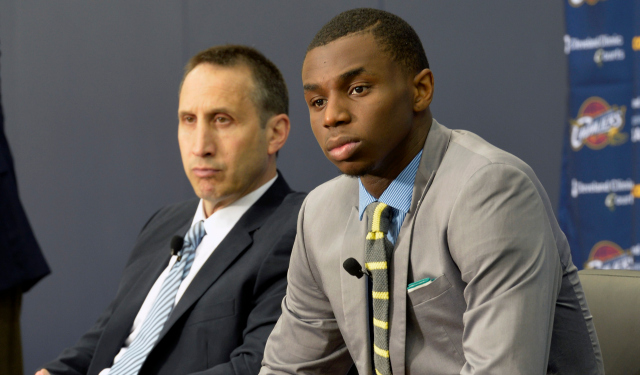 More on LeBron's return: James chooses Cleveland | Doyel: Welcome back to Ohio
LeBron James didn't mention No. 1 pick Andrew Wiggins in his story with Sports Illustrated's Lee Jenkins to announce his return to the Cleveland Cavaliers. Here's the relevant passage:
I'm going into a situation with a young team and a new coach. I will be the old head. But I get a thrill out of bringing a group together and helping them reach a place they didn't know they could go. I see myself as a mentor now and I'm excited to lead some of these talented young guys. I think I can help Kyrie Irving become one of the best point guards in our league. I think I can help elevate Tristan Thompson and Dion Waiters. And I can't wait to reunite with Anderson Varejao, one of my favorite teammates.
Now, this doesn't all of a sudden mean that Wiggins is headed to the Minnesota Timberwolves in a Kevin Love trade. The rookie's camp doesn't believe he's going anywhere, according to Yahoo Sports' Marc Spears. Maybe the veteran James just didn't want to shout out young guys who haven't proven anything at the NBA level. Anthony Bennett, last year's first overall pick, is absent, too. It's just notable because Wiggins, even if he hasn't played a single pro game, is potentially a future star and obviously a part of the Cavaliers' core as constructed. You'd have thought his name would be in there.