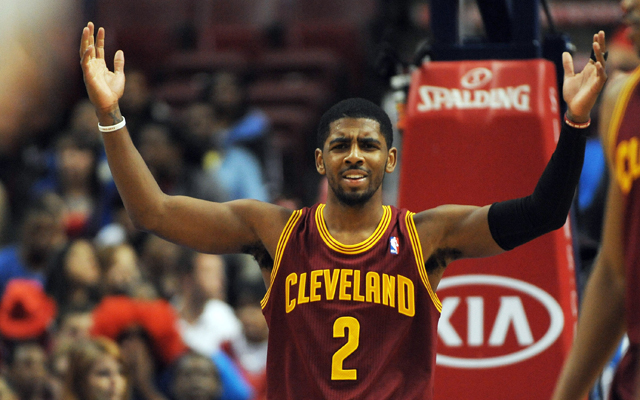 Cleveland Cavaliers point guard Kyrie Irving has had a tough time since he entered the NBA. While his play has been spectacular on the court, getting on the court has been a problem. He's played in just 109 of the 148 possible games in his first two seasons, due to various injuries. 
At the end of the Cavs' loss to the Miami Heat on Monday night, the Cavaliers were supposed to stay on the court for Fan Appreciation Night, as is the tradition in Cleveland after the final home game of the season. All of them stayed except for Irving, who bolted from the court and into the locker room, where he was checked out by the training staff. 
Irving missed the Fan Appreciation Night giveaway of game-worn jerseys and shoes but apologized Tuesday on Twitter for not honorng the fans who showed up to support the 24-56 team (before Monday night's loss).
I want to personally apologize to all the Cavs fans for my actions yesterday, it was truly unfair to you guys, Im very appreciative for all

— Kyrie Irving (@KyrieIrving) April 16, 2013
Of you guys, your love and passion for the organization and city is what pushes me to be great,

— Kyrie Irving (@KyrieIrving) April 16, 2013
I don't know how many fans were upset by Irving's actions, but it's nice for him to apologize to them, anyway. The confusing part of the whole ordeal wasn't Irving skipping the postgame festivities, but that the Cavs told reporters that Irving had a bruised right heel when Irving seemed to just dismiss the classification of the injury.
He told reporters he is fine.
The Cavs' final game of the season is Wednesday night against the Charlotte Bobcats in Charlotte.