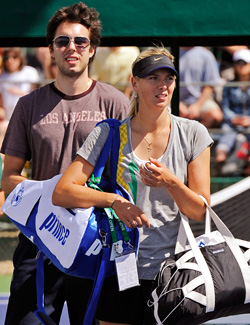 This beautiful couple is no more.
(Getty Images)
How badly would Sasha Vujacic like a time machine that could take him back just two years?
In October 2010, Vujacic was still the cult hero member of the title-defending Los Angeles Lakers known as "The Machine" and recently engaged to remarkably attractive Russian tennis star Maria Sharapova. Now? The Slovenian guard is out of the NBA and officially done with wifey.
The Los Angeles Times reports that Sharapova told reporters at the U.S. Open on Friday that the couple's wedding engagement is off and has been off for some time.
"It's been since the end of spring," Sharapova said. "I was waiting for someone to actually ask me that question. I have never really been the person to announce things. I never announced when we were together or never announced we were engaged. I never have in any of my previous relationships as well."

"It was a really nice period of time for both of us, but our career schedules just made it extremely difficult to see each other with the traveling and especially his career move to Turkey. But we have a tremendous amount of respect for each other. I still would love to call him as a friend. We spent really great years together."
Brutal. Brutal. She subtly blamed the split on his NBA departure and even hit him with the "friend zone" line. The only way this could have been worse? If she dropped, "It's not The Machine, it's me" on the assembled media. 
Vujacic was traded by the Lakers to the New Jersey Nets during the 2010-11 season. From there, he opted to sign with Anadolu Efes of the Turkish professional league during the lockout. He re-upped for another season earlier this month.
Vujacic, 28, holds career averages of 5.6 points, 1.9 rebounds and 1.3 asists per game during a 7-year NBA career.
Sharapova, 25, has won four grand slam titles and is currently ranked No. 3 in the world.