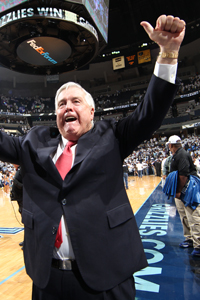 Who's got two thumbs and just made 90 million?
(Getty Images)
The Memphis
Grizzlies
:announced Monday that owner Michael Heisley has reached an agreement to sell the team to tech near-billionaire Robert J. Pera. From the official announcement:
Michael E. Heisley, the majority owner of the Memphis Grizzlies, announced today an agreement for the sale of the franchise to an entity owned by Robert J. Pera. Robert J. Pera is the founder and CEO of Ubiquiti Networks, a publicly-traded next-generation communications technology company. The sale transaction is subject to approval by the NBA Board of Governors, antitrust clearance and other conditions.

The Grizzlies were purchased by Mr. Heisley in 2000 when the team was located in Vancouver, Canada. In 2001, the Grizzlies were relocated to Memphis, Tennessee, and in 2004 moved into FedExForum, a state-of-the art NBA arena built by the City of Memphis and Shelby County. Since moving to Memphis, the team has participated in the NBA playoffs for five seasons, including the two most successful campaigns in franchise history, in 2010-11 and 2011-12.

"I have enjoyed my ownership of the Grizzlies and the support for professional basketball in Memphis," said Heisley. "I am confident that the franchise will continue its development toward being a perennial championship contender and an important member of the Memphis community. I am particularly gratified that we have put together a team which is poised to continue its improvement. We have an outstanding team of players, coaching staff, and basketball and business management. In Robert, we have a new owner who has expressed a total commitment to build on our success in Memphis."

"I am excited about the opportunity to build on the work that has made the Memphis Grizzlies a highly competitive NBA team," Pera said. "I look forward to getting to know the Memphis community and to continuing the team's success in Memphis."
ESPN first reported the sale and reports it at $350 million. 

Heisley has talked about wanting to sell the team for years, with it having struggled without significant financial support to offset market and franchise challenges. Heisley has repeatedly held off offers out of a desire to ensure the team stay in Memphis. Forbes.com lists Pera's residence as San Jose, which has long been discussed as a future home of a relocated NBA team, but that's most often linked with billionaire Larry Ellison. 

The sale must first of course come to a formal agreement, and then the NBA's Board of Governors must approve the sale. 

The Grizzlies are coming off their best regular season ever, and have a combination of established veterans and young stars. They won their first playoff game, and series, last year against the San Antonio Spurs. 

Pera will be one of the youngest owners in league at age 34. He made his money from the tech industry, having worked as a developer with Apple until 2005. He made his first billion in 2011. It took him six years to become a billionaire. If you need me, I'll be trying to figure out what I've done with my life. 

If it makes you feel any better, he reportedly slipped to $980 million last week. So really, he's just like you or I. 

It should be noted that Heisley also indicated he wanted to keep the team in Vancouver when he purchased the club in 2001. It should also be noted that Heisley managed to turn a $160 million investment into a $190 million profit. Not bad. 

Assuming the sale is approved, it'll be interesting to see how Pera takes hold of the franchise and what direction he takes it. For now, though, a new era is dawning in Memphis.