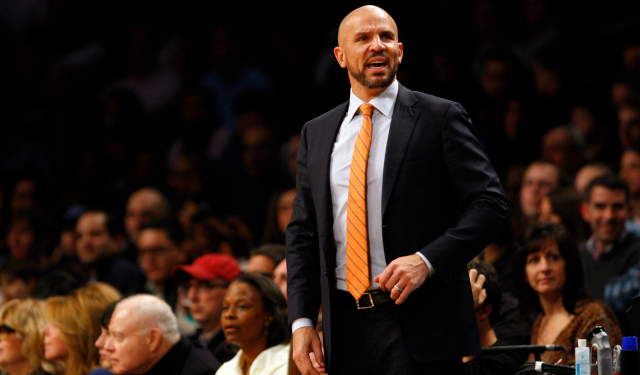 Berger: Kidd's power play an odd move | Front office in dark
Leave it to the Nets to kickstart the NBA offseason with some legit drama. A year after they shocked the world by hiring Jason Kidd straight off his playing days with no experience coaching whatsoever, Ken Berger of CBSSports.com confirms what the New York Post reports: Kidd will interview with the Milwaukee Bucks after a failed attempt to make a power play for control over basketball operations over GM Billy King. 
According to a league source, Kidd recently approached ownership with a series of demands, including the role of overseeing the Nets' basketball operations department in addition to his head coaching responsibilities. The source said Kidd didn't want general manager Billy King to be dismissed, but wanted to be given a title and placed above him in the organizational hierarchy.

Ownership declined to grant Kidd that kind of power, which is rare for any coach in the league to have. The source said ownership felt Kidd wasn't ready for that kind of responsibility after having only one year of coaching experience — the team finished his first season on the bench with a 44-38 record, good for sixth in the Eastern Conference — and allowed Kidd to seek other opportunities.

The franchise then was approached by the Bucks for permission to speak with Kidd about the prospect of hiring him, and the Nets granted permission.
via Denied promotion, Jason Kidd gets OK to talk with Bucks | New York Post.
So it looks like Kidd, who struggled to an absurd degree out of the gate as head coach before turning things around and landing the sixth seed which resulted in a second-round quick defeat by the Miami Heat, made a miscalculation and thought he had more pull in the organization than he thought. 
The Nets are cap-strapped, facing Paul Pierce's impending free agency with no discernible way to substantially improve the roster. The move from Kidd comes in the face of Steve Kerr and Derek Fisher getting substantially greater deals as first-time head coaches just months after Kidd was hired. 
The Bucks have not yet fired Larry Drew, nor is it clear whether Kidd is interviewing for management or coaching with Milwaukee, who drafted Jabari Parker on Thursday. 
The New York Knicks are facing the potential free agency departure of their biggest star in Carmelo Anthony and just traded their franchise center, Tyson Chandler. The Nets, naturally, are not to be outdone in stealing headlines, good or bad, from New York.