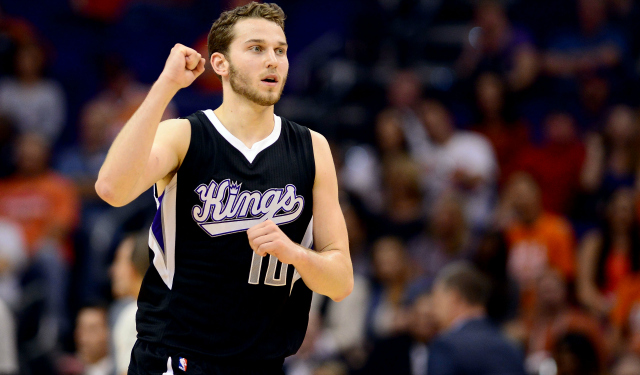 I never need to hear the name Nik Stauskas again. The Sacramento Kings shooting guard shall henceforth be known as "Sauce Castillo," thanks to a closed-captioning error first pointed out by Spin's Andrew Unterburger on Tuesday.
My closed captioning just referred to Nik Stauskas as "Sauce Castillo" and I will never be able to not call him this again

— Andrew Unterberger (@AUgetoffmygold) March 25, 2015
On Wednesday, word got back to the Kings rookie after a strong showing (13 points, 5-for-7 shooting, four rebounds, an assist and a steal in 18 minutes) against the Phoenix Suns. It appears he found it rather amusing.
Wait what does "Sauce Castillo" mean? Since when was that my nickname lol!! ??

— Nik Stauskas (@NStauskas11) March 26, 2015
The Kings' official Twitter account and their radio play-by-play guy approve of the nickname. That has to count for something, right?
Sauce Castillo spins and wins! ?? https://t.co/CY54L0aJtQ

— Sacramento Kings (@SacramentoKings) March 26, 2015
Unsubstantiated report: reason the bear got caught in the tree....too much Sauce Castillo!!

— Gary Gerould (@ggerould) March 26, 2015
Castillo and the Kings have won four games in a row. They'll face the New Orleans Pelicans on Friday.
(HT: CBS Sacramento)