With the 13th pick in the 1996 NBA Draft, the Charlotte Hornets selected Kobe Bryant out of Lower Merion High School in Philadelphia. Then, in a draft day trade that would change the course of NBA history, they dealt him to the Los Angeles Lakers in exchange for Vlade Divac. This much is indisputable. 
How it all happened, however, is not. 
Over the years this deal has been well-chronicled, and all signs point to a master manipulation on the part of Kobe, his agent Arn Tellem and then-Lakers general manager Jerry West, who, it's been widely said, was so smitten with Bryant that he effectively worked in cahoots with Tellem to limit Bryant's pre-draft exposure to other teams. Bryant, for his part, has maintained that he didn't have anything to do with leveraging his way to L.A. He says, in fact, that the Hornets never wanted him in the first place. 
From ESPN's Baxter Holmes:
"Charlotte never wanted me," Bryant said. "[Hornets coach Dave] Cowens told me he didn't want me. It wasn't a question of me even playing here. They had a couple of guards already, a couple small forwards already. So it wasn't like I would be off the bench much. "

"I mean, I had grown up watching basketball," Bryant said. "I knew who Dave Cowens was and [was] pretty excited [to play for him]. Then I was like, 'Oh, all right.' I quickly transitioned from smiley kid to killer instinct."

"Cowens told me, 'We don't really need you here,'" Bryant said.
Bryant tweeted a similar stance in 2014:
On this day 18yrs ago the hornets told me right after they drafted me that they had no use for me and were going to trade me #thanku #lakers

— Kobe Bryant (@kobebryant) July 1, 2014
There may be shades of gray to Kobe's version of this story, but it's ridiculous to think he had no say in where he ended up. Kobe was, and still is, a very smart guy. Having spent much of his youth in Italy where his father, "Jellybean" Bryant, spent seven years playing professionally, he was cultured and wise beyond his 18 years. The guy speaks three languages fluently. He knew what was best for him. He knew who the Lakers were and what their brand represented. And while others certainly couldn't have predicted how truly great he was going to be, Kobe, from day one, intended to become nothing less than an NBA and global icon. 
In 1996, before the Internet and social media had limited the business leverage of the big market, you didn't do that in Charlotte. You did it in places like Los Angeles. The only question was: How was Kobe going to get there?
For starters, 12 teams had to pass on him. That's where West and Tellem came in. Together, they began orchestrating a series of skipped workouts and floating rumors in an all-out effort to deter any and all suitors. There was also something else working in their favor. Back then, Kevin Garnett had only rebroken the seal of high school players going straight to the NBA one year earlier, and there was still plenty of skepticism about an 18-year-old making that jump. Bryant was a risk. Guys like eventual top pick Allen Iverson, Marcus Camby and Ray Allen were seen as much safer, if not altogether better picks than Kobe. 
The Lakers, of course, loved this. They felt like they knew something everyone else didn't. West had dynastic visions of growing Bryant alongside Shaquille O'Neal, the prized free agent of that summer whom West was intent on snatching from the Orlando Magic. But in order to have the money to pay Shaq what he was clearly going to demand on the open market, the Lakers couldn't pay Bryant top dollar right away. They had to push him outside the lottery, where they would only have to pay him for that set salary slot. 
The first pick outside the lottery was the Hornets at No. 13. They needed a center. The Lakers had Vlade Divac. It was the perfect crime. 
The one team that was seen as the biggest threat to throw a wrench is this whole plan was the New Jersey Nets, who held the No. 8 pick. Then-general manager John Nash and coach John Calipari were in charge of turning the Nets around, and Nash was said to be particularly impressed and almost obsessed with drafting Kobe, as told in Jonathan Abrams's New York Times best-seller Boys Among Men.
Kobe, allegedly, didn't want to play for the Nets due to a falling out with his family. Rumors suddenly began flying that Bryant was willing to play in Italy if he didn't end up with the NBA team of his desire. In other words, the Lakers.
And so the stakes were set. And the draft began.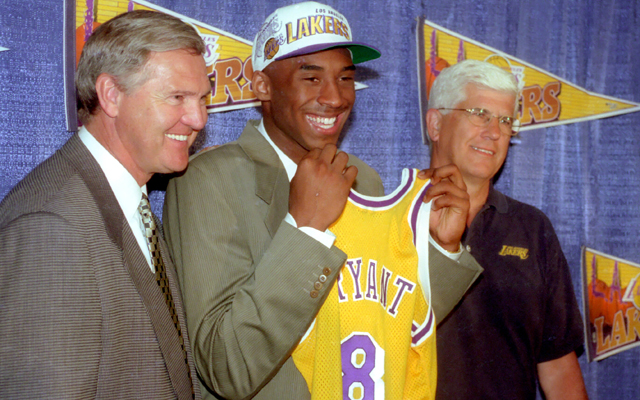 Allen Iverson, as mentioned, went first to Philadelphia, followed by then-Raptors GM Isiah Thomas selecting Marcus Camby second. Thomas has since claimed he wanted to draft Kobe -- and Garnett the year before -- but was worried about the international aspect of asking teenagers to play in a foreign country. This seems like a pretty convenient piece of revisionist history considering Kobe had largely grown up in Italy, but that's what he says. 
At any rate, Vancouver grabbed Shareef Abdur-Rahim third, and then Minnesota and Milwaukee did one of those draft night swaps involving Stephon Marbury and Ray Allen. Five picks into it and Tellem's plan was right on schedule.
Boston took Antoine Walker with the sixth pick, and the Clippers went with Lorenzen Wright at No. 7. That left Calipari, Nash and the Nets tempting fate at No. 8. Nash wanted Kobe still, but Calipari bent to the threats of Tellem and the will of a wary ownership. Instead, they went with the safer pick of Kerry Kittles. A run of big men (Samaki Walker to Dallas, Erick Dampier to Indiana, Todd Fuller to Golden State, and Vitaly Potapenko to Cleveland) created the dream scenario for Kobe, who was taken at No. 13 by Charlotte. 
Everyone thought it was done. Almost miraculously, all the pieces had fallen into place. The Hornets were fully prepared to move Bryant to L.A. in exchange for Divac. The only problem? Divac, apparently, wasn't willing to be moved, and in fact threatened to retire if the deal went through. 
From June 26 to July 11, the Lakers, Hornets and Divac were at a stalemate. Vlade didn't want to leave L.A. He'd worked hard to become entrenched in that organization and the fans had fallen in love with him. He didn't want to go to the other side of the country to play for a decent Charlotte team. This, obviously, was going to blow up West's plan. The trade for Kobe couldn't be completed without Hornets GM Bob Bass getting a guarantee Divac would play.
From the Charlotte Observer:
The morning of that draft we got a tip at the Observer that the Hornets were discussing a trade to acquire a center. Eventually, working with Scott Howard-Cooper, then of the Los Angeles Times, we figured out this was the deal: If Bryant lasted to the Hornets' 13th pick, they would select him and deal him to the Lakers for Divac's pre-existing contract. That gave West both Bryant and the cap space to pursue O'Neal.

This got a little complicated when Divac threatened to retire, rather than report to the Hornets. I asked Bass what he'd do if Divac didn't relent and Bass said he'd keep Bryant.

That put Tellem in a nasty mood. Eighteen years later I remember him screaming at me over the phone from Southern California that Bryant would be a Laker no matter what.

Divac gave in and the deal was completed in July. A few weeks into his rookie season I caught up with Bryant at Madison Square Garden before a Knicks game, and asked him what would have happened had Divac retired.

He grinned and said he'd be a Hornet, that anything else was just a bluff.
Perhaps this is true. Perhaps Divac truly held the future of the Lakers, and in many ways the NBA as a whole, in his hands. If he doesn't relent and that deal never goes through, maybe Shaq stays in Orlando with Anfernee Hardaway, and maybe we're looking at a different kind of Disney dynasty. And Kobe as a Hornet? How long would that have lasted? It's hard to imagine him in any other jersey. 
In the end, Divac loved the Lakers so much that he didn't want to ruin West's plans for the franchise. He agreed to give it a shot in Charlotte. The trade went through on July 11. Seven days later, Shaq and the Lakers inked a seven-year, $120 million contract, thus adding two of the greatest players of all time to a core that included Eddie Jones, Nick Van Exel, and Cedric Ceballos -- the latter of which the Lakers traded that same season for Robert Horry.  
Just like that, a dynasty was forged thanks to the indecision and distrust of others, the threats of a camp steadfast on getting Kobe to the place he wanted to play, and the new, scary world of high school kids forgoing college for the opportunity to cash in on millions of dollars. Twelve teams -- actually 13 if you count the Hornets -- will forever be kicking themselves for not seeing what West saw in Bryant, or if they did, not having the gumption to act on it. That's no disrespect to Iverson, who was just elected to the Naismith Hall of Fame, or Allen, who will surely join him shortly. That's just a fact. Kobe Bryant was unquestionably the best player in that class, and arguably the best player of his generation.
The Lakers got him. And the NBA was never the same.