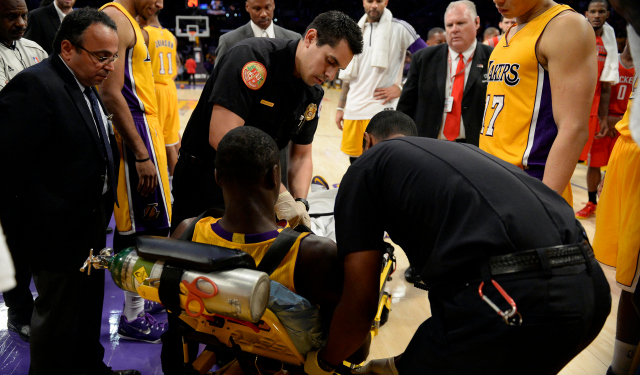 On Tuesday during halftime of the Los Angeles Lakers' game against the Phoenix Suns, rookie forward Julius Randle spoke to the media for the first time since breaking his tibia in the first NBA game of his career one week prior. For many Laker fans, the enduring image from last Tuesday night is Kobe Bryant consoling Randle immediately after the injury.
"The night that I broke it, [Bryant] had texted me," Randle told reporters. "We were talking. And he was one of the main people that helped me really get out of my pity party, saying, 'It's happened to players before, you're not the first and you're going to have a great comeback.' He was like, 'But your rehabilitation and your mindset starts now.' And it did. I'll struggle the days I struggle, but at the end of the day I'll be fine."
Randle said he went home from the hospital last Friday, and since then he'd just been sitting on the couch. He's had trouble sleeping, but smiled when talking about having his Xbox hooked up earlier that day. Tuesday marked the first time he'd left the house, and he went to Lakers shootaround to talk with teammates. He said he's doing a good job keeping his spirits high. 
"I've cried a couple times about it," Randle said. "But, I mean, I cry for 10 minutes then I'm good."
When the injury happened, Randle was, in his words, upset and frustrated. He heard a pop sound, but at first he didn't feel it. Once he was on the ground, he knew. Los Angeles trainer Gary Vitti asked him what happened, and he replied that he'd broken his leg.
Randle is out for the season, and he knows it's a long road to recovery. He said he's determined to improve by being a student of the game, though, and he'll have much more time than he would have otherwise to watch tape. This is a horrible way to start a career, but he's clearly focused on overcoming this setback.
The Lakers are 0-5 on the season and are allowing 120.5 points per 100 possessions, easily the worst defensive rating in the league, per Basketball-Reference.
Here's video of Randle's comments, via Lakers Nation: