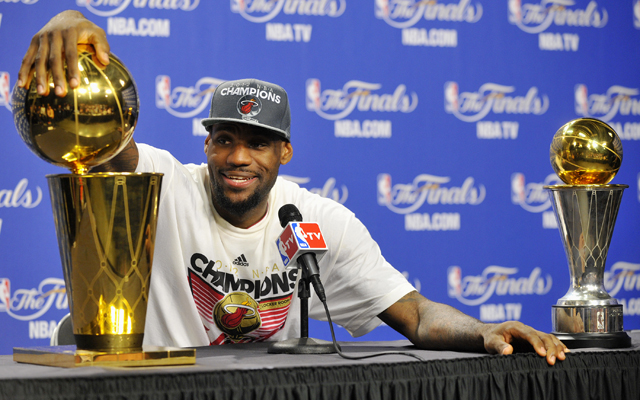 LeBron James finally has his NBA title and a Finals MVP to go with it.
(Getty Images)
MIAMI -- In the end, after all the struggle and a mammoth climb, the last leg of the journey was easy. LeBron James planted his feet at the top of the championship mountain Thursday night, and that final step was the easiest of all.
James, finally, is an NBA champion. And the culmination of his nine-year quest was so effortless, he didn't even need to be on the court when the clock struck 0:00 -- when the heaviest albatross in the sport finally was lifted. 
James and Dwyane Wade, who'd lured his friend and former rival here on the uncertain premise that they could sacrifice their games and forge a championship bond together, checked out with Chris Bosh to an ovation with 3:01 left and Miami leading by 22.
Here is how it happened, for posterity: After the Miami lead had been cut to five early in the third, the freight train piloted by James pulled away, never to be heard from again. Miami outclassed, outhustled and badly outscored the Thunder from there, going on a devastating 34-15 run to close the third with a 95-71 lead.
In his long-awaited championship closeout, the coronation finally coming as the clock read 11:47 p.m. in the East and the scoreboard 121-106 in Game 5 of the Finals, James killed them softly. Killed the critics and the Thunder 4-1 in the series and the demons of past playoff failures all at once.
Greatness wasn't needed on this night, as it was in Game 6 of the conference finals in Boston. There was no pressurized shot or Finals moment for James to step into and embrace. Just a calm, calculated display of maturity and command -- and a helping hand from some of those never accounted for in the vitriol directed at this team when it formed in July 2010.
James had 26 points, 13 assists and 11 rebounds, a steady, controlled exertion of his vast basketball arsenal. Wade finished with 20, and Bosh -- the third wheel in the Big Three who was so paramount in Miami arriving at this moment -- had 24 points and seven rebounds.
But it was Mike Miller, who can barely move due to a back injury that likely will require career-ending surgery, going out to an ovation with 23 points on 7-for-8 shooting from 3-point range. Mario Chalmers, the recipient of many helpings of biting criticism from his superstar teammates, had 10 points and seven assists. Shane Battier, adding an NBA championship to the NCCA title he won at Duke, chipped in with 11 points, including three 3-pointers.
That kind of balance, that kind of input from the Big Three's supporting cast in a Finals closeout game, was not what anyone had envisioned when this combustible confluence of basketball talent came together nearly two years ago, to the amazement and dismay of the basketball world.
It started on July 8, 2010, when James – in his red-and-white checkered shirt – announced to the free world on a live, reality-show event that he was "taking his talents to South Beach." The Decision bombed, and the derision for James and how he left his hometown in the lurch on national TV was swift, biting and universal.
His Cavs jersey was burned in effigy on the streets of Cleveland. His callousness and lack of self-awareness turned the entire basketball world against him. The Decision was soon followed by the Victory Celebration, a cheesy, over-the-top introduction of Miami's new Big Three in a smoke-filled American Airlines Arena. In a scene that reeked of athlete entitlement and South Beach club-hopping, James, Wade and Bosh posed and preened and promised multiple championships.
Then, the Superteam started 8-7. James brushed coach Erik Spoelstra on his way to the huddle during a loss in Dallas on Nov. 27, 2010, and speculation already began circulating that Spoelstra was not connecting with his star-heavy team and that his job was in danger.
The Heat steadied themselves, and the turning point seemed to be James' return to Cleveland on Dec. 2, when he dropped 38 on his former team in three quarters of a 118-90 rout. "It's nothing personal," James said that night, but he still didn't apologize for dumping an entire region of the country on national television.
The apology wouldn't come until May 11, 2011, after James had finally gotten past the Celtics – the team he couldn't beat by himself and, perhaps above all else, the true motivation for his decision to team with Wade and Bosh in Miami.
"As much as I loved my teammates back in Cleveland, and as much as I loved home," James said after the Heat ousted the Celtics in five games in the 2011 conference semifinals, "I knew I couldn't do it by myself against that team. … I apologize for the way it happened, but I knew that this opportunity was once in a lifetime."
But the apology rang hollow, coming 10 months after the fact and only after James had tasted the first mouthful of success in his new surroundings. He couldn't win for losing, couldn't do anything right even when he tried.
James and the Heat dispatched Derrick Rose and the Bulls in five games in the Eastern Conference finals, with James playing a key defensive role in slowing down Rose, the league MVP. But his first season with Miami and second trip to the Finals of his career would end in disgrace, with the Heat squandering a 2-1 lead with three straight losses to the Dallas Mavericks. James was ineffective and oddly disengaged in the fourth quarter of Miami's losses, and followed up his latest playoff failure with another episode of stunning self-pity and unawareness.
In the interview room after the Mavs' title-clinching victory in Game 6 at Miami, a defiant James spoke about how he'd wake up the next day and still be LeBron James, while his critics would wake up and "have the same life they had." It was a stunningly tone-deaf diatribe, James' worst turnover since the Decision. The hatred and head-scratching awe at James' sense of entitlement grew even more.
He alluded to that indiscretion Wednesday, about 32 hours before he would stride onto the floor for introductions in Game 5 – with that elusive championship finally within reach. This was a different LeBron, one who wouldn't offer hollow, ill-timed apologies for his mistakes but rather would own them and acknowledge his flaws.
"I was very immature last year after Game 6 towards you guys and towards everyone that was watching," he said.
That was more like it. That was the new LeBron James.
This new approach started before his second season with the Heat, after a cooling-off period during which James said he was so depressed by the Finals loss that he didn't go outside for two weeks.
"I was very hurt that I let my teammates down," James said.
Something happened, something changed for him, and James decided that he would tune out his phalanx of yes-man enablers and return to playing the game he loved with a healthier mix of determination and joy – without regard to pleasing others or proving anything.
The result was one of the greatest all-around statistical seasons in modern NBA history, and James' third MVP award at age 27. But more important, the result was a more relaxed, contrite James – one who was no longer lashing out at the critics but rather owning his past and trying to play nice with his tumultuous present.
The struggles, however, were not over. The roadblocks to the championship were still there – stubborn and immovable in his path in the form of that old, proud, diabolical nemesis. Yes, James would have to get through the Celtics yet again. And though it was so contrary to his purpose in fleeing Cleveland for Miami, he would have to do it almost by himself.
Reminiscent of a blowout loss to Boston in Game 5 of the conference semifinals while with Cleveland in 2010, James was exhausted, disengaged or both down the stretch of a devastating Game 5 loss to the Celtics in Miami in the 2011 conference semis. Having lost three straight to the Celtics and trailing 3-2 going to Boston for Game 6, the weight of the world was once again on James' shoulders.
He painted one of the great masterpieces of his career, an awe-inspiring 45-point, 15-rebound performance in which he shot 73 percent from the field and reminded everyone of his greatness. James and the Heat closed out the Celtics in Game 7 at Miami, perhaps closing the book on Boston's Big Three era for good.
But the journey would not have been complete without finishing the job in the Finals, without finally getting the title fit for a King. LeBron James, NBA champion, is the outcome that always needed to happen. The struggle to get it was epic, flawed, and finally, somehow redeeming and satisfying in its achievement.
LeBron James finally has taken his talents where they belong, to the top of the championship mountain – to the peak of basketball's Mount Rushmore. What a climb it was, and what a view it must be.