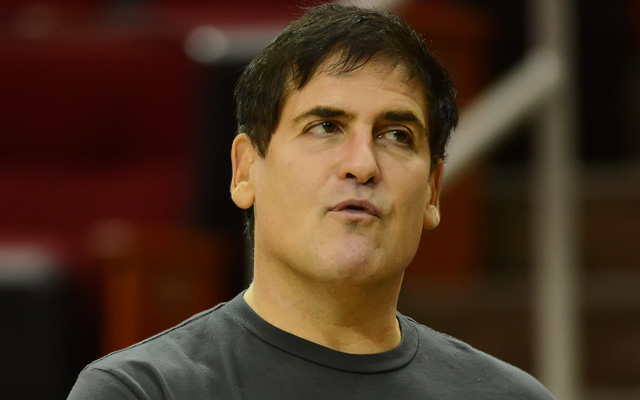 There's a line from the movie The Big Chill about how no one can get through the day without two or three rationalizations. They are the lifeblood of our mental makeup. You have to rationalize things on a moment-by-moment basis just to survive. 
Mark Cuban is apparently a huge fan of rationalization, because he went at it hard in an interview with ESPN Dallas where he says the Mavericks are better off without Dwight Howard: 
"I think we've put ourselves in a spot where we're in a better spot than we were at if we got just the one max-out deal," Cuban told ESPNDallas.com during the Mavs' summer league game Wednesday night. "I think it'd be better shorter and longer term. I don't want to make that sound the wrong way. I think we'll be better this year because we added five good players or more."

...

"Obviously we didn't get Dwight," Cuban said. "We took a chance, and it didn't happen. I think we put together a really good team. It sticks within the culture we've tried to define. We've dealt with some of the weaknesses we had from last year. Hopefully if we stay healthy, good things will happen."

...

Cuban has said this summer is the beginning of a two-year plan to rebuild the Mavs into a championship contender.

"Obviously, we were disappointed we didn't get Dwight, but we pretty much got everything else we wanted to get and then some. Much more," Cuban said. "We never thought we'd be able to get Monta (Ellis). It turned into a good summer. Now, the key is to get everybody playing together, get everyone healthy, keep them healthy and go."
That moment when you realize you didn't think you would be able to get Monta Ellis -- that's a dark, dark moment, folks. 
I mean, you can kind of see what he's saying here, right? That with only Dirk Nowitzki and Howard (and Shawn Marion and Vince Carter), the Mavericks would have been trying to put together an entire roster with almost no remaining cap space. That might have proved difficult. Instead, they got an entire roster full of guys. And look at these deals!
Jose Calderon, four years, $28 million, guard, age 31

 
Monta Ellis, three years, $25 million, guard, 42 percent shooting from the field last season

 
Wayne Ellington, two years, $5 million, guard, 43 percent shooting from the field last season

 
Shane Larkin, rookie, guard, suffered broken ankle in summer league practice

 
Ricky Ledo, rookie, guard, averaging seven points per game in summer league

 
Gal Mekel, rookie, guard

 
Devin Harris, deal revoked due to significant toe injury, guard; no, seriously, deal revoked due to toe injury
So there's a pattern there, and I know it's hard to discern. That's right. They added seven guards, pending a re-working of the Devin Harris deal. They added an aging and defensively dismal point guard (who can shoot the lights out and is a great passer), a volume shooter known for his poor decision making and conversion rate (who is also a singularly exciting shot maker and an underrated creator), three rookies, Devin Harris with an injury (this is really a good signing) and Wayne Ellington. 
They're also in the mix for Samuel Dalembert and Greg Oden, according to reports. So they have that going for them. 
I'm having a hard time seeing the path to "in a better spot than we would have been with Dwight Howard," but then, I'm not trying to sell tickets for next season or pacify Mavs fans who are quickly turning into the psychos from Borderlands 2.
They should be able to get the ball to Nowitzki better next season. Rick Carlisle does have a huge capacity for maximizing talent and getting guys to buy in. They still have Nowitzki and a still-very-useful Marion. 
It's just really hard to see what Cuban is talking about here. 
Maybe that was just him covering, though. If all he was saying is the Mavericks are better off without the nonsense and dramatics Howard brings to the table, I think he's got a point. Look at Orlando and Los Angeles. Howard left two franchises in rubble. The guy's basically been the worst bad-luck charm on Earth for two years. That, I can rationalize. Maybe that's what Cuban was going for.