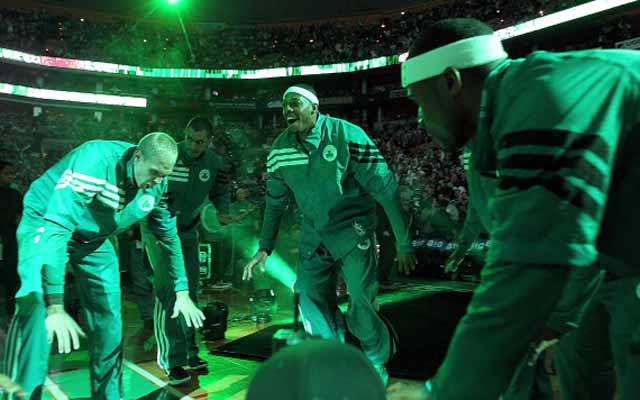 The Celtics have a chance to open at home in the second round depending on how Tuesday night goes.
(Getty Images)
Gentleman's Sweep (n.): An NBA playoff series that ends in five games. Defined as "sweeping the opponent, but giving them one, you know, to be polite." Preferably, but not necessarily, a series in which the series-winner wins the first three games, loses the fourth, then closes at home. 
Tuesday night in the NBA playoffs is Gentleman's Sweep Night.  Four teams enter action Tuesday with a chance to finish off their opponent and head home for some rest while the rest of the first round plays out. It's not absolute dominance, but it's as close as it gets. The Celtics, Lakers, Sixers and Pacers have all reached this point through different means, and none of them in the archetype manner, but a win on Tuesday and the result is the same -- a first-round win with time to rest before the second round. 
For their opponents? That one win gives you a sliver of hope, but the three losses make you feel like you're fighting just for respect. Each opponent is in a different situations.
Hawks-Celtics
In Atlanta, the Hawks won Game 1 in impressive fashion. They lost Game 2 in a weird, very Celtics-like "win when the chips are down" kind of game. Game 3 was their own taste of adversity, arguably greater considering relative depth (but not overall quality of missing player), but they couldn't quite get it done. And then there was Game 4, a total beatdown which indicated that the Hawks were ready to cave in and call it.
Boston looked rattled to start this series but has gotten stronger in every game and has matchup advantages with the Hawks' injuries. The Celtics smell blood in the water and instead of a letdown game in Game 4, they went for the kill. They can do the same Tuesday. 
Sixers-Bulls
The Bulls are walking wounded right now. Without Derrick Rose, likely without Joakim Noah, they're at home, thankfully, but against a Sixers team that knows that they've caught a break and are riding it. The Bulls are going to need someone, anyone to step up and have a big game against what everyone forgot was a very good defense in the regular season, especially against teams that don't feature one of the best scorers in the
NBA
.
The Bulls on the other hand, multiple reporters close to the team have noted, look defeated. They've shell-shocked that they went from up 1-0 against an overmatched team, finally healthy, ready for a playoff run and a rematch with Miami, to fighting for their lives against the 8th seed. With so many veterans on Chicago's team, there has to be a lingering knowledge that they can't get past a Boston team with this roster. And it's eating them.
Philly is trying to prove it can close out the better team with a stroke of luck and not let a feisty team off the mat. This is a tell-tale game for Philly's chances against Boston (or Atlanta). They have to win and cut off the air supply before Chicago starts drumming up some "We Believe" magic slogan or something.
Nuggets-Lakers
The Lakers slammed the door on the possibility of the Nuggets making this a series with a win in Game 4. They haven't even played particularly well, yet lead 3-1. This has all the makings of an entitled Lakers team closing out in five games because they're better, despite not really investing themselves into being so. Whereas San Antonio closed out the Jazz with focused superiority, the Lakers have let the Nuggets hang.
Denver's desperate, but there's got to be a point where the size of the Lakers is simply too much. They know they can't beat them at the rim, and with the Nuggets unable to get their shooters hot with any consistency this year, they don't have a model to beat the Lakers. A good effort at home, enough to split, but a Staples crowd and an energized Andrew Bynum might be enough to get Denver to pack it in. The Lakers just need to be bigger than the Nuggets and play like it to win and get some rest before facing a Thunder team which already has a head start on couch time over them. 
Magic-Pacers
The Pacers let the Magic steal Game 1 and had everyone shaking their heads at Indiana, then the Pacers turned on the jets. And still the Pacers have let the Magic hang around in every game, including overtime in Game 4. But the result is the same, headed home with a 3-1 lead and a chance to get to finish their series before the Heat do (or theoretically face the Knicks in some bizarro universe). 
Orlando has done more with less than any other team in the playoffs. The Magic have fought, and defended, and hustled, and hit shots, and pushed Indiana. But they don't have Dwight Howard. This will forever be the year of what-ifs for the franchise, one way or another, and Tuesday is one more chance for them to stand up and show what they're made of. No team will fight harder Tuesday night than the Magic, who have more of a reason to believe they're in this series than the other underdogs. But at the end of the day, you need talent to win, and the Magic lost their best in a rollercoaster year. If the Magic can push this to six, though ... anything can happen.