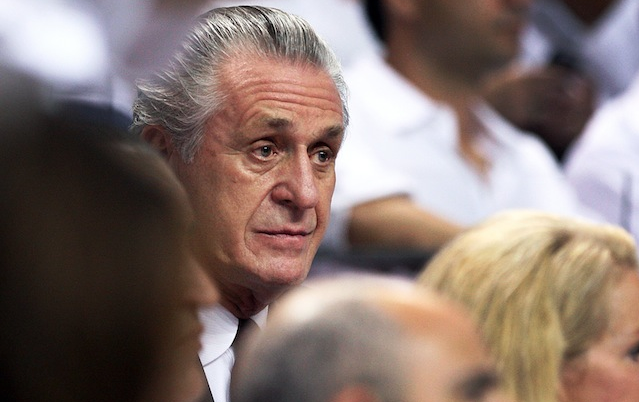 Even when the Heat and Celtics aren't playing, things can still get pretty nasty between them.
After Celtics general manager Danny Ainge called LeBron James' complaints of hard fouls "embarrassing," both LeBron and Heat president Pat Riley fired back.
LeBron's response when asked by reporters Friday was simply, "I'm not surprised to hear anything from Boston."
Riley's response was a bit ... stronger. In a statement released through the Heat's PR via the Sun-Sentinel, Riley said of Ainge, "He needs to shut the f--- up and manage his own team. He was the biggest whiner going when he was playing. I know that because I coached against him."
OK, then.
And here's Ainge's response to the response, via the Boston Globe: "Pat Riley's right. I should manage my own team and I complained a lot [as a player]. And I'm right. LeBron should be embarrassed by how he complains about the calls he gets."
OK, then, again.
LeBron griped about the physicality the Bulls used, complaining of hard fouls that were "not basketball plays."
"Those are not basketball plays," James said. "And it's been happening all year, and I've been able to keep my cool and tell Spo, 'Let's not worry about it too much.' But it's getting to me a little bit, because every time I try to defend myself, I've got to face the consequences of a flagrant for me or a technical foul or whatever the case may be."
So yeah, that'll be fun to keep in mind if the Celtics and Heat happen to meet in the playoffs again this season.