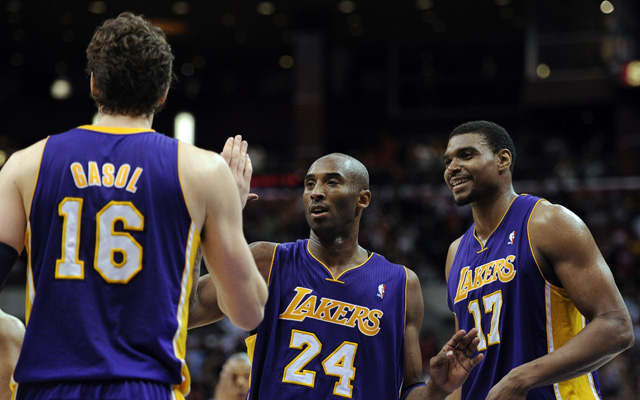 Kobe Bryant and Andrew Bynum will be there no matter what for the Lakers in the playoffs.
(Getty Images)
One year ago, the
Los Angeles
Lakers were the favorites to win their third consecutive
NBA
title. They were set to finish
Kobe Bryant
's legacy as the equal of Michael Jordan in the rings department, to send off Phil Jackson with his 13th championship ring, and add another story of glory to their legacy.
And then, not so much.
The Lakers fell in four games to a relentless onslaught from the Mavericks in May, going out not only without a single win, but in an embarrassing fashion as
Andrew Bynum
cheap-shotted J.J. Barea, and the Lakers coming apart at the seams. After the lockout, they returned to a coach hey had not endorsed, trying to put in a new system, and trade rumors abundant. A failed trade for
Chris Paul
which set off a storm of controversy when David Stern, acting as the owner of the Hornets, struck down the deal which would have dealt both Lamar Odom and
Pau Gasol
, lead to Odom's departure to Dallas.
Throughout the year, we've seen the Lakers swing between two very serious extremes. More so than even most times in a season filled with extreme week-by-week results, the Lakers have played like a contender one game, and a dysfunctional, erratic, uncohesive mess the next. Kobe Bryant has lead the NBA in scoring for most of the season, but has seen his field goal percentage and overall efficiency plummet. Their bench is one of the singular worst in the league over the course of the season. Their stars, both Andrew Bynum and Kobe Bryant, have expressed dissatisfaction with Brown. The Lakers bowing out in the playoffs for the second year in a row would not be shocking.
Neither would their winning the NBA title.
The Lakers lost their heart and soul when they traded Derek Fisher to the Rockets. But they gained
Ramon Sessions
, which has made them an altogether more cohesive team. Then Kobe Bryant went down with an injury, and yet it has only served to make the Lakers stronger, as for the first time
Metta World Peace
has stepped up. It seems the more dysfunction and bad luck goes their way, the better the Lakers play.
And through it all has been the emergence of Andrew Bynum. Finally healthy for a full season, Bynum has proven himself to be the franchise center the Lakers have already claimed him to be. He made his first All-Star appearance, and it has been his physically overwhelming force down low that has put the Laker at another level consistently.
So how do the Lakers win the NBA title, redeeming last year's disaster, cementing Kobe Bryant's legacy as the second best player of all time, and returning Los Anegeles to what it feels is its rightful place?
Mike Brown has to do the work.
Kobe Bryant's going to shoot. A lot. And some nights he's going to score 40 and some nights he's going to drop 28 points on 29 shots. Thats' who he is and he isn't changing. Andrew Bynum is likely going to do something stupid. That's what he does. He's immature and brash and will generally do what he wants while still producing like no other center in the West.
Everything else comes down to Brown's management. The playoffs afford him solutions to many of his problems. Many coaches play shorter rotations, so he can play Ramon Sessions extended minutes, limiting the damage that has happened defensively when
Steve Blake
has seen the floor. And a grind-it-out, slower pace is a better fit for Brown's style, especially with both Pau Gasol and Bynum in place to wear down opponents with offensive rebounds.
Brown has to make adjustments. Too often he lets things slide, hoping they'll correct themselves. But the Lakers have not shown a capacity to play out of trouble, especially on the bench unit. Phil Jackson let players suffer through swings without calling timeouts. Brown doesn't have that luxury from a tactical or personnel standpoint.
It would be easy to point to some sort of balance between Bryant and Bynum as the crux of the Lakers' chances. If Kobe plays within the offense and limits his hero-ball instincts, feeding Bynum consistntly, the Lakers win. If he goes gunning as he is wont to do, not so much. But we know that both elements are simple facts of the Lakers' life. Bryant will shoot an inordinate amount, and Bynum will get touches as well. That's what we've seen this year, and it's worked, more often than not. The core is there, dysfunctional and abrsive as it is. It's Brown's responsibility to keep Pau Gasol mentally engaged, Metta World Peace able to contribute, the bench from destroying leads.
Brown's had the deck stacked against him this entire season. The Lakers' title run will depend on him beating the odds one more time.