Charges won't be filed against Colin Kaepernick after Miami incident
Neither Colin Kaepernick, Ricardo Lockette nor Quinton Patton will face charges from an incident earlier this offseason.
• 1 min read
About a week ago, 49ers quarterback Colin Kaepernick signed a glitzy contract extension, and on Thursday, the good news for Kaepernick continued.
That's because charges won't be filed against Kaepernick, Ricardo Lockette or Quinton Patton from a suspicious incident that occurred earlier this offseason in Miami in which Kaepernick was linked to a possible sexual assault.
"No charges, no indication that a criminal act was committed," Ed Griffith of the state attorney's office told CSN Bay Area. "She was alleging that she may have been the victim of a sexual assault, and there was no evidence."
A woman who knew Kaepernick made the allegations and said she ended up in the hospital with no memory of how she got there after visiting the three players in a Miami apartment. She also said that she didn't have sex with Kaepernick on the night in question.
Later, 911 calls released by police showed that a man, reportedly Lockette, called from the apartment saying that the woman wouldn't leave Kaepernick's room.
"I want to report there's a young lady in my friend's bed," the caller said. "He's not here. She's going to wait in his bed. She's not leaving. We asked her to leave. We told her he won't be here tonight. She said she's not leaving until she sees him."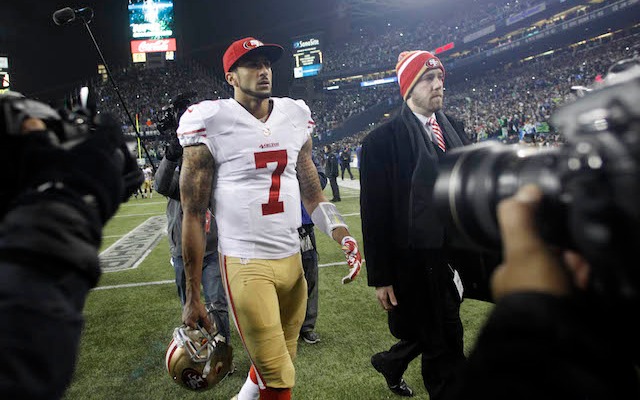 As the call continued, the dispatcher asked if the woman was waiting for her boyfriend. "He's not her boyfriend. (Inaudible.) But he's not here so she went and got in bed naked, and said she's staying there until he got back."
Said Kaepernick last month: "It's been put out that I did something wrong. Even though it's a bad circumstance, a bad situation, I feel like ultimately I've been blessed because it's changed my way of thinking. It's made me stronger. It's made me look at things differently."
By 2018, Dalton's price tag will be too expensive, so the Bengals pick Baker Mayfield to usher...

The offensive line, run game, and receivers have been worse as well

Quin now spends his free time reading books and hanging out with his family
Here are the 12 teams we are projecting to make the NFL playoffs heading into Week 15

Johnson has come forward to open a dialogue with other players about CTE

National sports writer Mike Tierney tells you who to pick in your Week 15 football office...