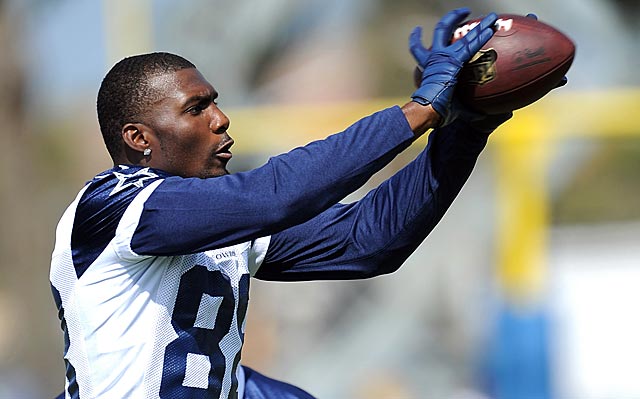 Hazing, bullying, rookie initiations or whatever other name you give it is nothing new. Not in football or most other sports. What is new, at least in the NFL, is that the alleged bullying by Dolphins guard Richie Incognito of teammate Jonathan Martin was enough to cause Martin to leave the team.
Incognito has been suspended indefinitely and the NFL has launched an investigation.
But as a reader pointed out in a previous post, in 2010, one rookie made it clear that he wouldn't be subjected to hazing, even the relatively innocent variety.
It's why, when Cowboys wide receiver Roy Williams told first-rounder Dez Bryant to carry his shoulder pads after a practice in July 2010, Bryant said no.
"I'm not doing it. I feel like I was drafted to play football, not carry another player's pads," Bryant said, via ESPNDallas.com. "If I was a free agent, it would still be the same thing. I just feel like I'm here to play football. I'm here to try to help win a championship, not carry someone's pads. I'm saying that out of no disrespect to [anyone]."
Carrying shoulder pads is a far cry from the voicemails Incognito sent Martin or the verbal abuse alleged by Martin's attorney. But Bryant's point is still valid.
"I don't believe in that at all," the wide receiver said at the time. "We have a goal here. It's not about playing games. It's all about just trying to do the right thing and achieve our goal."
Worth pointing out: One knock against Martin is that he didn't fit into the locker room culture in part because he went to Stanford  and came from a family that valued education. Bryant's background couldn't be more different than Martin's and, interestingly, they share the same thoughts on being harassed by teammates.
In case you're wondering, Williams got his revenge on Bryant; The Cowboys' offense went to dinner and the rookie was reportedly stuck with the $54,896 bill.
"They got the young fella," said Bryant's adviser, David Wells. "What could he say? He had to pay it unless he wanted to wash dishes for a month."
Incognito's fate could officially be decided when the NFL concludes its investigation, but there are already reports that the Dolphins are "done" with him. Martin, meanwhile, could return to the NFL though we can't imagine a scenario in which he stays in Miami.