More NFL offseason: Mock Drafts | Prospect Rankings | Pro Days | Top free agents
With the Eagles releasing receiver DeSean Jackson in what has been a surprising move, there has been speculation about how much of a role this NJ.com report has played, particularly with its news that Jackson's reported ties to a Los Angeles gang had troubled the organization.
But in a statement released Friday afternoon, Jackson denied he is in or has ever been part of a gang.
Here's his full statement, via  ESPN.com:
First I would like to thank the Eagles organization, the Eagles fans and the city of Philadelphia for my time in Philly. I would also like to thank coach Andy Reed (sic) for bringing me in. Secondly, I would like to address the misleading and unfounded reports that my release has anything to do with any affiliation that has been speculated surrounding the company I keep off of the field. I would like to make it very clear that I am not and never have been part of any gang. I am not a gang member and to speculate and assume that I am involved in such activity off the field is reckless and irresponsible. I work very hard on and off the field and I am a good person with good values. I am proud of the accomplishments that I have made both on and off the field. I have worked tirelessly to give back to my community and have a positive impact on those in need. It is unfortunate that I now have to defend myself and my intentions. These reports are irresponsible and just not true. I look forward to working hard for my new team. God Bless."
At this point, the Eagles have made no comment on the release other than that they used "careful consideration" before parting ways with Jackson.
But in that NJ.com report, a Los Angeles police department detective said that Jackson routinely flashes gang signs in social media photos and once during a game vs. the Redskins last year.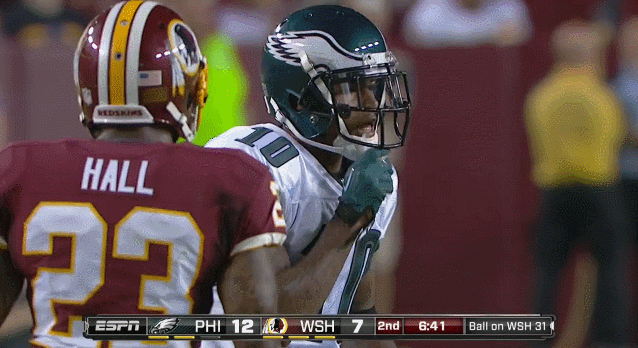 In 2013, Jackson released a music video for his song "Diamonds on My Neck" that shows him flashing a sign many have interpreted as that of the Crips.