The benching of Bears quarterback Jay Cutler sent shockwaves around the NFL last week, but is hardly an indicator that he won't be back. While head coach Marc Trestman is all but certain of being fired next week and GM Phil Emery could meet the same fate, Cutler's hefty contract, his recent performance and other factors have created a climate where the Bears are effectively stuck with Cutler for two more years, numerous league sources said.
Cutler has $16 million guaranteed on his salary for 2015, and on March 13, another $10 million of his $16 million salary in 2016 becomes fully guaranteed. Cutler has no inclination to alter his contract in any way to facilitate a deal, sources said, and he is waiting to see how the organization restructures for next season and who he will be working with on an offensive staff.
So Cutler is effectively guaranteed of making $32 million the next two seasons, on top of the $22 million he made this season, and a sampling of a host of executives and personnel people revealed a climate in which a trade would be viewed as just about impossible. Cutting Cutler costs $15.5 million and while the contract has offsets, which would allow the Bears to recoup money based on what Cutler would earn elsewhere, sources said that Bears ownership is nor prepared to explore those options.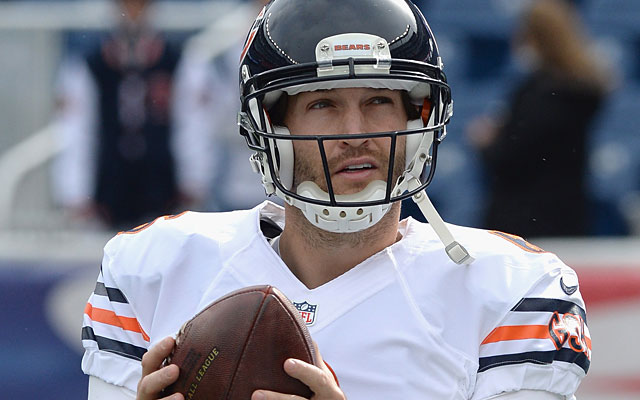 The decision to bench Cutler came from Trestman, and not above, and is not an attempt to keep him healthy to facilitate a trade (in fact, as the backup quarterback Sunday against a Lions defense that could savage new starter Jimmy Claussen, it's entirely possible Cutler ends up playing due to injury or otherwise).
With a reputation as a coach killer, finding coaches to work with Cutler may not be easy, either, but Mike Shanahan, who drafted Cutler in Denver, would have interest in reuniting with his former pupil, according to sources with knowledge of the situation, and he and Cutler maintain a very close relationship.
Other members of Shanahan's direct coaching family tree include his son, Browns offensive coordinator Kyle Shanahan and Ravens offensive coordinator Gary Kubiak (the Shanahans would not work together again, as they did in Washington, according to league sources). Arizona defensive coordinator Todd Bowles is expected to be asked to interview for the job.
Some have linked former Bears quarterback Jim Harbaugh, the outgoing coach in San Francisco, to this job, but sources said his price tag would likely preclude a Chicago return, and the way the organization is structured in terms of final say and roster control would have to shift considerably as well.
As for Emery, he as informed members of his staff he believes he has an opportunity to retain his job -- it has become a foregone conclusion in that organization that Trestman will be gone -- but, with the entire organization under review by ownership, that remains to be seen.