The life of Cleveland Browns quarterback Johnny Manziel has apparently taken such a dark turn that his own father fears for his son's life.
"I truly believe if they can't get him help, he won't live to see his 24th birthday," Paul Manziel told The Dallas Morning News. Paul Manziel also told the News that his son has twice in the last week refused to enter treatment at a rehabilitation facility.
The family first tried Saturday afternoon to get Manziel, 23, to agree to go to the Enterhealth Ranch addiction facility in Van Alstyne, but he would not stay. That attempt came the day after Manziel's former girlfriend alleged in a police report that he hit her repeatedly at a Dallas hotel and while driving her home to Fort Worth on Jan. 29. Manziel has not been charged in the incident, but a Fort Worth Police helicopter searched the area for him.

Paul Manziel said that he tried to have his son admitted Tuesday to Carrollton Springs Hospital, but that Johnny was allowed to leave. Paul Manziel said that he is upset that his son was allowed to walk away after Paul told a Denton County Sheriff officer that he believed Johnny to be suicidal. Carrollton Springs is a 45-bed psychiatric and chemical dependency hospital in Carrollton, providing inpatient and outpatient treatment to adults suffering from mental illness and/or addiction, according to its website.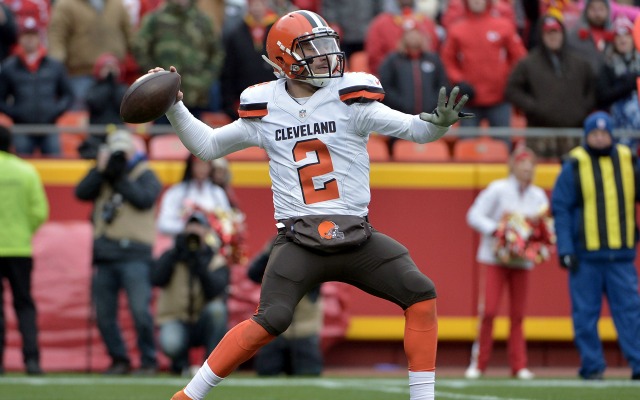 Manziel has, during the course of his short NFL career, been involved not only in multiple alcohol-related incidents off the field, but now two alleged domestic disputes as well. Over the last few weeks alone, he reportedly went to Las Vegas in a disguise the night before his team's regular season finale, was seen partying on video again in Dallas, had an alleged domestic incident with his ex-girlfriend (where police reportedly searched for him with helicopters), and on Friday morning he was dropped by his agent.
Everyone around Manziel at this point seems to agree that he needs serious help, but Manziel himself doesn't appear to want it. It's concerning and it's sad, and one would hope he agrees to get the help he needs sooner rather than later.