Mike Mitchell on being fined after Bradford hit: 'Roger being Roger'
Mike Mitchell was fined $7,875 for taunting after his Week 7 hit on Sam Bradford. Now, he says he's being targeted by the NFL.
• 1 min read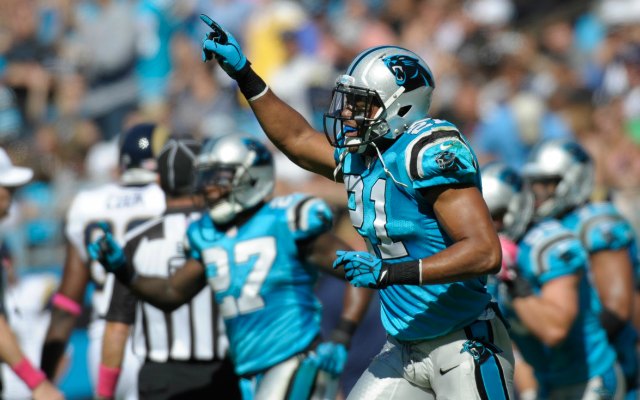 When Panthers cornerback Mike Mitchell pushed Rams quarterback Sam Bradford out of bounds in Week 7 in a move that tore Bradford's ACL, St. Louis guard Harvey Dahl immediately went after Mitchell -- once after the initial hit and then again when Dahl realized Bradford was badly hurt.
Now, the NFL is coming after Mitchell's money, and he thinks it's become personal with the league.
In fact, he said he's been fined by the league 10 times since he was drafted in 2009, including $7,875 for taunting after the Bradford takedown. Mitchell wasn't penalized on the play -- for either the hit or the supposed taunt -- but he said the league is penalizing him because Bradford is a big name.
"I'm being targeted because I play football physical, but I'm not out here cheap-shoting guys and doing dirty plays like I've seen people from Detroit do," Mitchell said, via the AP.
Of course, the "people from Detroit" to whom Mitchell is referring (we assume he's talking about Ndumukong Suh) have been fined and fined heavily.
But you can see Mitchell's point, particularly since it didn't appear that Mitchell was aware of Bradford's injury when he went into his mode of preening.
"Roger being Roger, I guess," Mitchell said, referring to commissioner Roger Goodell. "To be honest, I think there is a little bit of a targeting system they have out. I think I'm one of the guys they'd been looking for, but I'm OK with that."
Mitchell said he's been fined about $45,000 this year, and he doesn't expect the punishments to cease anytime soon.
"The coaches and my teammates know who I am, know the type of player I am, and I've definitely cut down on the personal foul penalties," he said. "So as long as I'm not getting flags that are hurting the team ... Like I said, they have a little bit of a target on me. As long as it's not hurting our team, I don't mind ...
"We have nine games left. I'm not going to change the way that I play. I'm not getting penalties, I'm not playing dirty, I'm not hitting anyone to the head. If you want to fine me on these little judgmental things, keep them coming. It's a write-off."
Follow Josh Katzowitz on Google+
Pick Six Newsletter
Get the day's big stories + fun stuff you love like mock drafts, picks and power rankings.
Please check the opt-in box to acknowledge that you would like to subscribe.
Thanks for signing up!
Keep an eye on your inbox for the latest sports news.
Sorry!
There was an error processing your subscription.
The Steelers cornerback expects the AFC North to be competitive in 2019

Cincy was plagued by injuries last season and finished with six wins

Could Metcalf be one of the biggest steals of the draft?
Zach Ertz gives two reasons why the USWNT blowout win over Thailand wasn't bad for soccer

The Patriots coach is apparently a ruthless paintball player

Russell Wilson and Aaron Rodgers made a lot of money over the past 12 months