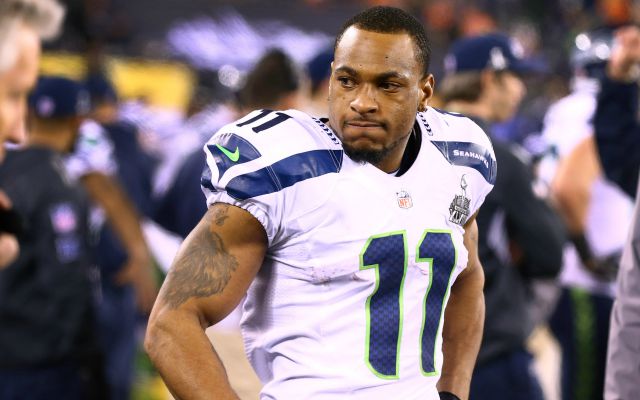 In March of 2013, the Seattle Seahawks departed with a first-round pick in order to acquire flashy wide receiver Percy Harvin from the Minnesota Vikings. The trade would be a rare misfire for Seattle's front office, as less than two seasons later, Harvin was shown the door in Seattle, heading to the New York Jets via a trade.
Harvin not only struggled to consistently put up numbers on the field with the Seahawks, but during their successful Super Bowl run, Harvin was also reported to have gotten into a locker room altercation with Golden Tate. And then, prior to a 2014 preseason game, Harvin was reported to have gotten into an altercation with Doug Baldwin.
On Wednesday, Harvin pretty much confirmed that some sort of altercation with Baldwin did in fact occur. While appearing on ESPN's First Take, Harvin, now playing for the Buffalo Bills, opened up about his time spent in Seattle, saying that the wide receiver corps in Seattle perceived Harvin as a threat rather than as a teammate.
"My teammates accept me a little more (in Buffalo)," Harvin said. "What I mean by that I always felt when I went to Seattle a lot of the receivers took me as a threat rather than accepting me as a teammate. I always told those guys, I pulled them to the side several times after seeing the comments they were making to the media, 'Hey, guys, I'm here to ball with you, to take us to the next level.' A lot of guys were looking at they were already established and they didn't need any help. I just took it as I never was kind of accepted in the receiver group by all the members."
Harvin wasn't done revealing information about his failed stint, also saying that he had to "walk on eggshells."
"Seattle at times I kind of felt as I had to come in and be the guy to sit in the back of the room, not say too much, kind of walk on eggshells," Harvin said. "That in itself drew frustrations on top of not being accepted in my receiver group, so just kind of never was able to get comfortable in Seattle."
Then, Harvin referenced the altercation with Baldwin, saying that he was accustomed to handling issues "man to man, which is kind of what I did with the Doug situation. But that ended up turning and backfiring."
Now, Baldwin is the only guy still in town, as Tate signed with the Lions before last season and Harvin now finds himself in Buffalo. If Harvin also fails to make an impact with the Bills, Harvin's career could be in a spotty situation. After averaging 825.5 receiving yards in his first four seasons with the Vikings, Harvin has failed to eclipse just 500 yards in a season, sitting out most of 2013 with an injury and combining for just 483 yards with the Seahawks and Jets in 2014. 
Really, the only somewhat significant play Harvin has made since leaving the Vikings was his kick return for a touchdown in the Super Bowl, and that came in the second half of a game that was already 22-0 in favor of the Seahawks.