Ready for NFL return, Bill O'Brien draws interest from Vikings, Texans
After two years getting Penn State on tract, Bill O'Brien is ready to become and NFL head coach, and the list of suitors could include the Vikings, Texans and Redskins, Jason La Canfora reports.
• 1 min read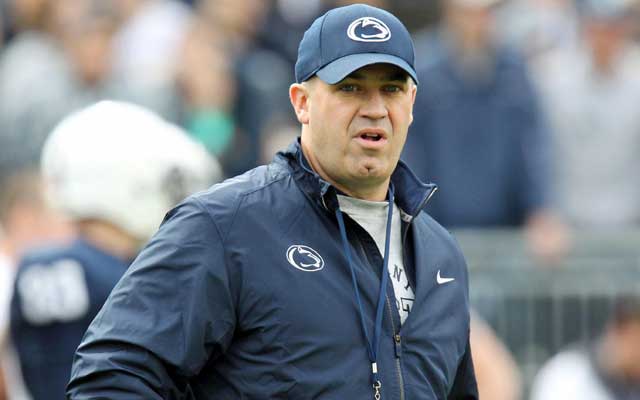 Penn State's Bill O'Brien, who came close to taking the Eagles job a year ago and was approached by several other teams, is ready to return to professional football, according to pro and college sources, and has already been approached by the Texans and Vikings.
O'Brien struggled with the decision last year and ultimately felt he owed it to his players to stay at Happy Valley for a second season, but relations between him and the school frayed some when the school was subjected to more post-Sandusky sanctions than expected, and he also has had three staff members depart recently. His buyout is less financially restrictive than in past years, and, furthermore, there could be litigation over his buyout as well, if the situation escalates, given the penalties the program faced.
At a time when many college coaches are opting to sign extensions to stay in their school -- some of them ironclad, like Texas A&M and Kevin Sumlin, and others much more easily circumvented, like Baylor and Art Briles -- O'Brien's combination of pro and college experience, his work with quarterbacks and his willingness to make the jump, all make him attractive to NFL teams. While some expect the Texans' search to end up with a coach other than O'Brien, he was contacted by them. And, with Vikings coach Leslie Frazier in the final year of his deal, and no extension talks forthcoming, that team has begun reaching out to possible candidates as well, sources said, including O'Brien.
O'Brien could end up a candidate for the Redskins job, with restoring the play of quarterback Robert Griffin III such a priority for that franchise, as well, while sources said Briles would have more interest in that job than has been reported. O'Brien boosted his coaching pedigree on Bill Belichick's staff in New England, and, while it's true that many Belichick's products have failed when venturing out on their own as head coaches, O'Brien managed a very difficult situation at Penn State in the wake of the sexual abuse scandal there and pulled off some big wins and righted the program in the face of that adversity.
The NFL announced on Friday that 32 compensatory draft picks have been awarded to 15 teams

Jonathan Martin's old high school was forced to close on Friday after he appeared to threaten...
It doesn't look like the Jaguars will be making any front office changes anytime soon

The Buccaneers quarterback received a citation after causing a car wreck February 13

It's time for NFL teams to get creative and here's some moves to make it possible