Remember When: 63 years ago, Jim Hardy threw 8 picks in a game
If you thought Eli Manning was having a rough start to the season, he's got nothing on former Pro Bowl quarterback Jim Hardy.
• 2 min read
Much has been made this season of Eli Manning and the cornucopia of interceptions he's bestowed upon his opponents through the first two games this season. Overall, he's been picked seven times, and he's looked rather horrendous.
But seven interceptions in two games? C'mon, Jim Hardy chuckles at those numbers.
Don't recognize the name of Hardy? That's OK. He was a one-time Pro Bowl quarterback who played from 1946-52 for three teams, two of which no longer exist in the cites in which he played (that would be the Los Angeles Rams, the Chicago Cardinals and the Lions).
This is what he looked like on his 1948 Bowman rookie card, via Football Card Gallery.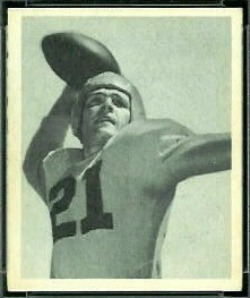 And we are nearing the 63rd anniversary of his worst game as a pro -- and statistically the worst performance ever by an NFL quarterback. Sept. 24, 1950, is the day that Hardy threw eight interceptions against the Eagles during a 45-7 loss.
That's eight freakin' interceptions in one 60-minute game. And that's obviously a record.
So, what the heck happened on that day?
Well, for one, Hardy was involved in a car accident on his way to the field, and he had to remain at the crash site to file a police report. He showed up just before the game started, and he didn't have time to warm up before he trotted onto the field. By the time the first half was over, Hardy had already thrown three picks.
"I really felt low at halftime," Hardy said, via the Football Hall of Shame book. "I can still remember sitting on a bench in the locker room with my head in my hands, thinking that nothing could be worse than three interceptions in one half."
Hardy had no idea how wrong he could be.
Eventually, Cardinals coach Curly Lambeau benched Hardy in favor of Frank Tripucka. But Tripucka -- who died earlier this month -- only lasted three plays before he injured his knee and Hardy had to return to the game.
"I felt so bad that day that after the game, I was wishing I was a mole," Hardy said, "so I could burrow my way out of the place under the grass."
With the exception of the 1950 season, Hardy was not a full-time starting quarterback. That season, though, he started 10 of 11 games and ended up leading the league with 24 interceptions (it probably would have been surprising if he didn't lead the league in interceptions after his performance vs. the Eagles).
For some reason, though, 1950 was the year that Hardy made the Pro Bowl.
Even with a performance like this:

So, how did Hardy respond the next week?
Without a problem, apparently. He threw five touchdowns to Bob Shaw, six overall in the game and had another dropped in the end zone as the Cardinals blasted the Baltimore Colts 55-13. That must have been an impressive turnaround.
Follow Josh Katzowitz on Google+
The Seahawks are trying to beef up their offensive line with George Fant out

Tom Brady had an interesting Sunday

Cutler's teammates rave about his arm and football IQ but can he keep playoff hopes afloat...
Odell Beckham broke all the rules for watching the solar eclipse on Monday

For the second straight year Siemian has won the starting job in Denver

The soon-to-be Las Vegas Raiders played in Los Angeles from 1982-1994 before moving back to...