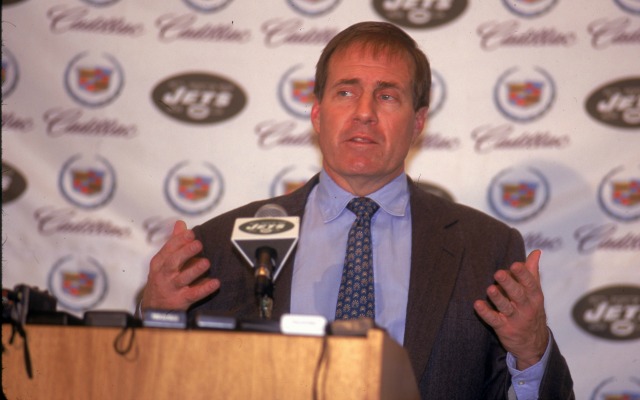 Bill Belichick has been on both sides of the Patriots-Jets rivalry (8:25 ET Thursday, CBS), but his stint as head coach of the Jets pales in comparison to his tenure in New England.
It was the Jets who offered Belichick a second chance at a top NFL coaching job after his subpar five-year run in Cleveland, where he went 36-44 with the Browns. After being fired by the Browns following the 1995 season, Belichick retreated to the safety of an assistant coaching job with his mentor, Bill Parcells -- first with the Patriots for the 1996 season and then with the Jets from 1997-99.
Finally, after the 1999 season when Parcells retired (temporarily, of course), Belichick finally got his chance. The Jets named him the new head coach. And then Belichick promptly did this.
When the Belichick-run Patriots face the Jets this week on Thursday Night Football, Belichick will boast a 19-9 record against his New York rivals since he took over in New England.
Here was the problem for Belichick in New York:
Before the 1997 season, the Jets wanted to hire Parcells away from the Patriots, but he was having a difficult time getting out of his contract in New England. So, grudgingly, the Jets gave Belichick the head coaching job in February 1997.
Clearly, it wasn't what the team wanted -- as this newspaper headline made clear.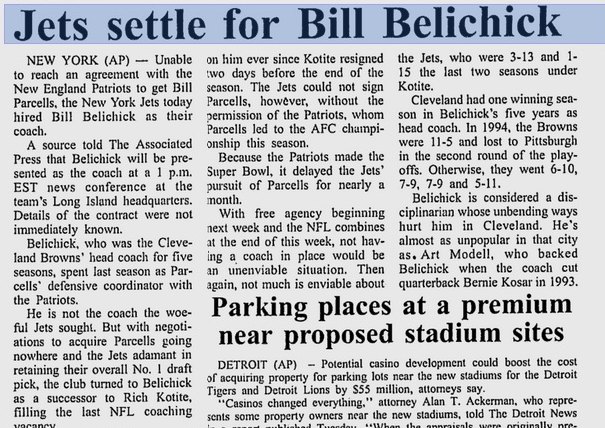 After about a week, the Jets, Patriots and Parcells worked out their differences, and Belichick was demoted back to assistant head coach. The good news: a clause was worked into both coaches' new contracts that Belichick would be the one to take over Parcells' job.
Three years later, Belichick did. For a day.
"I've been in situations, and more importantly my family has been in a situation, where I was the head coach of a team in transition," Belichick told the media who originally had assembled for Belichick's introductory press conference. "Frankly, it wasn't a really good experience for me or for them."
And with that, he disappeared.
So, what happened? Why did Belichick write his resignation letter on a napkin (he poetically penned that he was quitting as "HC of the NYJ") a short time before the news conference that was to introduce him as Jets head coach?
Was it because Belichick was still sore at his short-lived head-coaching job three years earlier? Was it because he wanted to get out of Parcell's shadow (unlikely since Parcells had done good work in New England, as well)? Or did he leave because he figured he'd have a better chance to win with the Patriots -- who had to give the Jets a first-round pick to compensate the Belichick loss?
According to Belichick, the explanation was simple.     
"I didn't resign to get to this spot," he said, via the NY Times, after taking the New England job. "I resigned because I wasn't comfortable with the situation with the Jets."
The Jets, after all, were going through an ownership change, so that explanation probably holds some truth. Still, Belichick hasn't been prone to talking much about the reasons he left New York so abruptly.
"At that point in time, that situation, I did what I felt like I needed to do and I don't have any regrets about that," Belichick said in 2011. "Certainly a lot of things could have been handled differently or whatever but anyway. It doesn't matter now."
Well, it mattered to the Patriots, who went to on to great heights with Belichick in charge. And it almost certainly mattered to the Jets, who haven't been to the Super Bowl since Belichick walked away.