After the Falcons made him a second-round pick in 1991 -- and he accepted that phone call wearing these awesome jorts -- Favre didn't do much of anything in his rookie season.
He played in just two games, threw only four passes and didn't complete a single throw.
Then Atlanta traded him to the Packers for the next season's No. 17 overall pick -- former Atlanta coach Jerry Glanville said he had to get Favre out of town and to a place where he could sober up -- and Favre found himself behind Don Majkowski on the Green Bay depth chart.
But in the second game of the 1992 season, Majkowski was benched for the entire second half in a 31-3 loss. It was a game in which Buccaneers quarterback Vinny Testaverde absolutely dominated. Favre was inserted in place of the Majik Man, and then, this happened.
Yes, this was how Favre completed his first NFL pass. He completed it to himself. For a loss of 7 yards.
The following week Majkowski severely damaged the ligaments in his ankle. Favre replaced him, fumbling four times. It got so bad for Favre that the crowd chanted for Ty Detmer to replace him with the team down 17-3. But Favre went on to complete 22 of 39 passes for 282 yards and two fourth-quarter touchdowns to lead his team to a 24-23 win vs. the Bengals.
And thus, the legend of Favre began. Be sure to check out the final quote of the story below.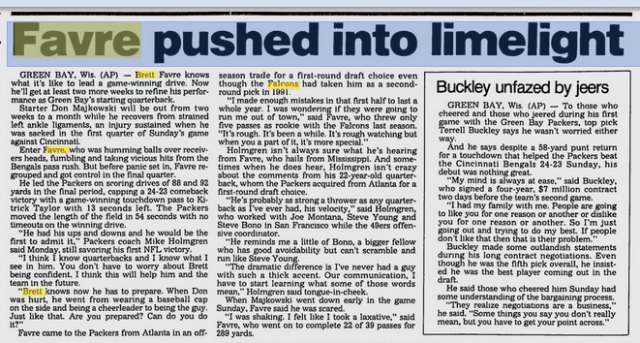 "All I knew was that something incredible had just happened," Majkowski told ESPN.com in 2008.
But at the time, nobody could have known the kind of career Favre would build. A future Hall of Famer. A man who would start the next 297 games. The quarterback who went to the Pro Bowl 11 times. A gun-slinger who is No. 1 all-time in completions, passing yards, touchdowns and interceptions.
Majkowski didn't necessarily see that at the time.
"I can't say that I knew right away Brett was going to be the guy, either," Majkowski told ESPN. "I mean, at the first minicamp, you could see he had a tremendous arm. But Brett was totally different back then. He was immature and very green, and you just had no idea how he'd develop."
Turns out Favre was just fine.
And he made just one more catch in his career. One for minus-2 yards a mere 17 years later.  
Follow Josh Katzowitz on Google+