As the NFL in the past half-decade or so has begun to take seriously the issue of player head injuries, there's been chatter the last several years whether technology can improve the current-day helmets that protect an NFLer's skull.
Like how Riddell created a new helmet designed to reduce the force of a frontal impact or how the NFL has begun checking to make sure helmets are actually fitting properly.
You know this, of course, but the league wasn't always so vigilant about protecting its players' craniums. In fact, players used to forgo any kind of head covering at all. Until 70 years ago when the NFL mandated that its on-field employees wear helmets. But not everybody was affected by the rule established in 1943.
Let's introduce you to Bears offensive end Dick Plasman.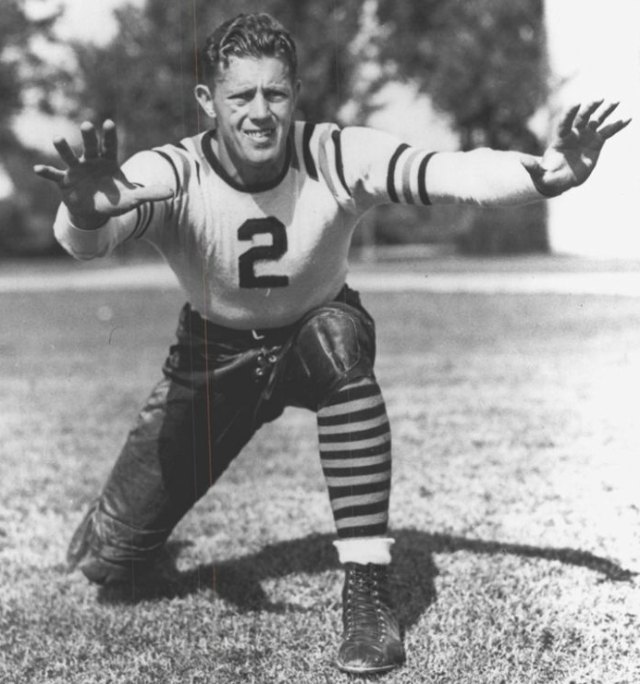 (H/t to this eBay auction for the photo)
Plasman, you see, was the last pro football player to compete without a helmet.
He had a fine career, making two Pro Bowls in his eight seasons (six were with the Bears and the final two were with the Chicago Cardinals) in his career. He actually played from 1937-41, then in 1944, and again from 1946-47, because he spent a few years in the Army during World War II.
Plasman apparently didn't feel comfortable wearing a helmet, and many years later, he said that if you hustled and gave it your best, you likely wouldn't get hurt.
Maybe he didn't need a head covering after all. Said one teammate to the authors of "The Pro Football Chronicle" (via the NY Times), "I mean, he had a piece of cement for a head."
Plasman also was a tough guy who apparently didn't mind partaking in fisticuffs.
As the Redskins website points out, Plasman took a swipe at Washington star quarterback Sammy Baugh and paid a price for it during Plasman's rookie year.
While the Bears were in the middle of a 28-21 loss in 1937 ...
The Bears panicked in the final quarter, discarding their pet running game and throwing pass after pass with little luck. Frustration fomented, and Chicago's 6-3, 210-pound Dick Plasman swung at Baugh's face on the sidelines.

A wild melee erupted near Washington's bench, and several Redskins took shots at Plasman. One bloodied his mouth and nose with a direct punch. As the Bears raced across the field, police and fans rushed to the scene and a riot began growing.

Redskins owner George Preston Marshall even left the stands to trade shots with his nemesis, Bears owner-coach George Halas. The altercation soon dissipated, and officials restored order.
(It goes without saying that Plasman certainly could have used a helmet that day.)
Or the day in 1938 when he dove for an overthrown pass and ran directly into the wall at Wrigley Field.
As the Washington Times wrote decades later, " The collision knocked him cuckoo and left him with an ugly cut stretching across the top of his head. But that was Wrigley for you. If the Bears didn't get you, the wall behind the south end zone would."
And that collision left quite a mark on Plasman.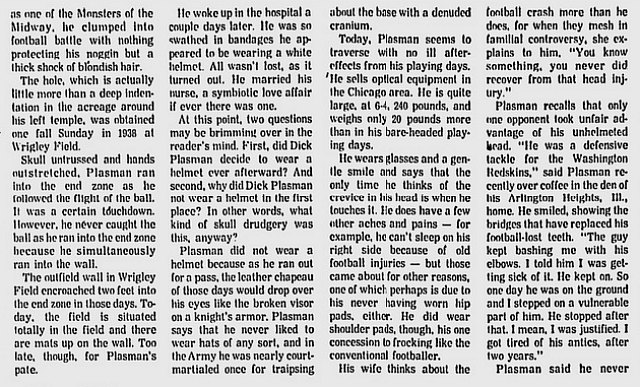 Plasman later was an assistant coach with the Packers and the Steelers, and because he didn't wear a hat on the sideline either, he once suffered frostbite on his ear.
Many years later, he was asked by a reporter if he would wear any kind of protection if he was playing in the then-modern days.
After a second of reflection, Plasman said that he would.
"Earmuffs," Plasman said.
Follow Josh Katzowitz on Google+