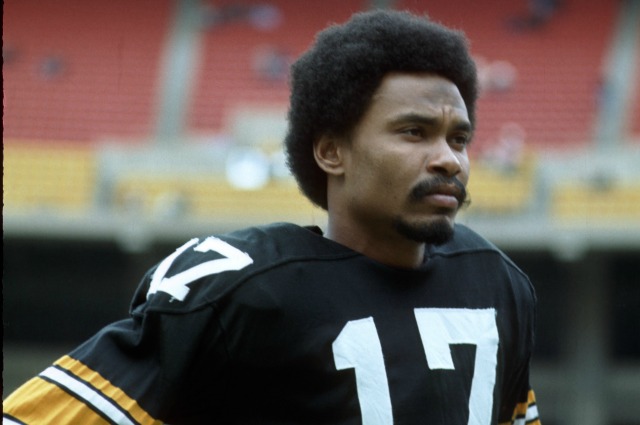 Heading into the 1974 season, Terry Bradshaw was a four-year veteran. He had taken over the Steelers quarterback position and led the team to a combined 19-4 record in 1972 and 1973. His numbers were fairly pedestrian, but it also seemed as if he had locked down his position four years after the Steelers had made him the No. 1 overall draft pick.
Except Bradshaw hadn't. Instead, after striking for a week during the preseason, he lost his job at the beginning of the 1974 regular season to a man named Joe Gilliam, who became one of the first African Americans to start at quarterback. But coach Chuck Noll didn't proclaim Gilliam the starter 40 years ago out of any sense of social progress or because Bradshaw and others had been part of a players strike.
No, Noll said that Gilliam simply was the best man to start at quarterback for the Steelers.
"What Joe did during preseason he deserves to start," Noll said at the beginning of the season, via Bleacher Report.
Said Bradshaw in an interview with Playboy, via Maury Z. Levy, six years later:  "Joe Gilliam had a phenomenal preseason; he won the starting job and I lost it. We had the players' strike, I stayed out a week -- he didn't. He played well and I got the ax."
And in doing so, Gilliam made history. Though Marlin Briscoe had started five games with the Broncos in 1968 and James Harris started a total of 41 games during his career in the early 1970s, Gilliam was the first to be crowned the team's starter before the season began.
Expectations were high. In retrospect, perhaps a little too high.
(Seriously, comparing him to Joe Namath?)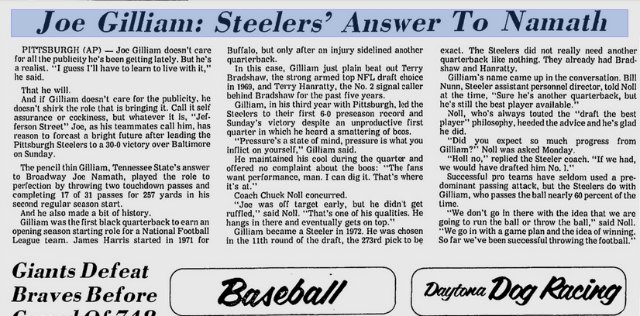 Plus, Gilliam was featured on the cover of Sports Illustrated with the words, "Pittsburgh's black quarterback" written on either side of his face.
In preseason, Gilliam had handled the pressure and performed well, but how would he hold up in this once-in-a-career chance when the regular-season began?
So, not great, huh?
And as you can see, Week 6 of the 1974 season was the last NFL start Gilliam ever made. And while he didn't play particularly well -- Noll benched him and reinserted Bradshaw as the starter -- Gilliam also had off-field demons to overcome.
For one, he was the recipient of plenty of hate mail.
"It became a race issue and things started to get nasty," Myron Cope, the longtime color analyst for Steelers broadcasts, told the Tennessean in 1999, via the NY Times. "I ran a talk show at the time, and we took all kinds of calls from people who were upset because Joe was playing and he was black."
As Bradshaw remembered in that Playboy interview, "From what I can recall, there was a lot of pressure from fans and he was throwing the football a tremendous amount of times and we weren't running the football and we lost our edge and we lost our aggressiveness and a lot of flak around the city, boy. And they chucked me back in there, which was a terrible time to do it. It was kind of a touchy situation. I responded all right for a couple of weeks, and then I faltered and [Terry] Hanratty played, and then he faltered, and then I played and I did all right, and then I faltered, and then I played and I did all right, and then I faltered the following week, and then Chuck decided to stay with me in the New England game ... But I always felt if I screwed up, I was going to be benched. And you can't play that way. I can't."
As for Gilliam, his career -- and life -- turned tragic.
During that 1974 season, he began abusing drugs, and later, Noll said he returned Bradshaw to the starting lineup because Gilliam was having off-field problems and his teammates didn't necessarily trust him. He lasted one more season in the NFL, and though he played minor league football for the next several years, Gilliam -- who Bradshaw had believed at one point was a better player than him -- was addicted to cocaine and heroin and eventually lived in a cardboard box under a bridge.
He died at the age of 49. After his funeral, nine-year NFL quarterback Doug Williams paid him tribute.
"Joe made it all possible for every one of us black quarterbacks," Williams said, via the Pittsburgh Post Gazette. "The struggles he went through eased the struggles we had to endure. That's why I had to be here today. I wouldn't have been comfortable with myself had I not come here to pay respect to Joe for all he did to help the rest of us."
But there's no doubt Gilliam played an important role in 1974 for the Steelers. For, the Steelers went on to win the Super Bowl that season and the next. For all his faults, Gilliam still won two Super Bowl rings while playing as a quarterback -- a backup and a starter -- for Pittsburgh.
For more on Gilliam, check out the video below (FYI, some NSFW language contained within).