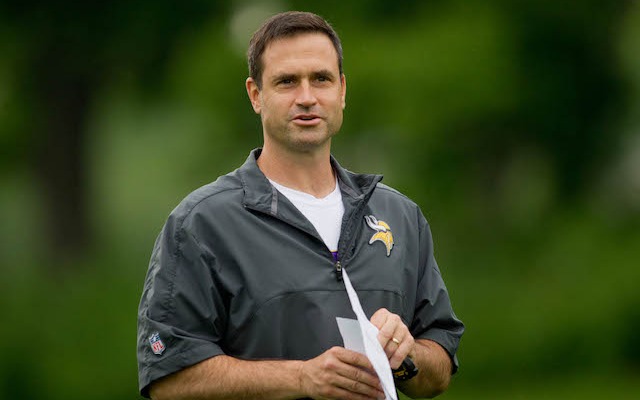 More NFL: Photos |   Videos & GIFs |  Stories | Training Camps | Johnny Manziel watch 
Former Vikings punter Chris Kluwe has threatened to sue the Vikings for allegations he made against special teams coach Mike Priefer, but Kluwe also said he would hold off if the Vikings released the results of their investigation.
On Friday night, the team did, announcing its findings into Kluwe's allegations that Priefer had made homophobic comments and announcing that Priefer has been suspended for three games.
The Vikings said that three-game suspension could be reduced to two games provided that Priefer "also attend individualized anti-harassment, diversity and sexual-orientation sensitivity training."
Priefer also apologized in a statement.
"I owe an apology to many people -- the Wilf family, the Minnesota Vikings organization and fans, my family, the LGBT community, Chris Kluwe and anyone else that I offended with my insensitive remark," Priefer said. "I regret what has occurred and what I said. I am extremely sorry but I will learn from this situation and will work on educating others to create more tolerance and respect."
The team announced that it would donate $100,000 to LGBT rights charitable and educational organizations.
A few minutes after the report was released, Kluwe seemed unimpressed and went off on a Twitter rant. A small sampling.
A page and a half. The NSA is wildly applauding the Vikings' definition of "open and transparent" right now.

— Chris Kluwe (@ChrisWarcraft) July 19, 2014
And yeah, if the Vikings want to play dirty, we can talk about ALL sorts of stuff.

— Chris Kluwe (@ChrisWarcraft) July 19, 2014
Kluwe's attorney, Clayton Halunen told the St. Paul Pioneer Press on Friday night that Kluwe still plans to sue the team. Halunen also said they wanted the Vikings to release the entire 150-page report, even though there are unflattering remarks about Kluwe.
Kluwe detailed his allegations against Priefer in January when he wrote in a piece for Deadspin that Priefer "would ask me if I had written any letters defending 'the gays' recently and denounce as disgusting the idea that two men would kiss, and he would constantly belittle or demean any idea of acceptance or tolerance. ... Mike Priefer also said on multiple occasions that I would wind up burning in hell with the gays, and that the only truth was Jesus Christ and the Bible. He said all this in a semi-joking tone, and I responded in kind, as I felt a yelling match with my coach over human rights would greatly diminish my chances of remaining employed."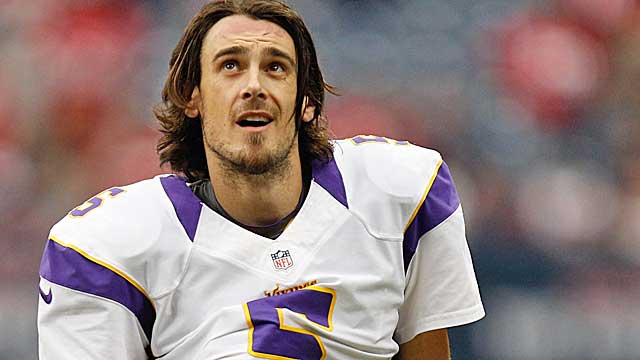 After that piece appeared, the Vikings hired Eric Magnuson, former chief justice of the Minnesota Supreme Court, and trial attorney Chris Madel to investigate Kluwe's claims, and they interviewed 31 people and reviewed electronically-stored and paper documents. The team also hired former Bears general manager Jerry Angelo and two-time Pro Bowl punter Craig Hentrich to analyze Kluwe's on-field performance in 2012 to see if Kluwe's claims that he had been released for being so outspoken were legitimate.
The Vikings also "engaged a nationally-prominent law firm in employment matters and one of the top-ranked and recognized firms for diversity, Littler Mendelson P.C. and partner Donald Prophete, to independently review and assess the findings and provide a report to the Vikings from an employment law perspective."
The investigators found that Priefer made a single homophobic comment to Kluwe, and according to long snapper Cullen Loeffler, he made the statement because Kluwe and Loeffler were not focused on football during practice.
The investigation also didn't find evidence that anybody from the franchise tried to stop Kluwe from engaging in his activism, and the investigators said that "other than the statement allegedly made by Priefer, the record is devoid of any support for the contention that the team harbored a homophobic hostile work environment."
As for Kluwe's release in 2013, the investigators say he went to Les Pico, the Vikings executive director of player development/legal, to talk about Priefer's homophobic comments. Kluwe said he wanted the conversation with Pico kept confidential because Kluwe thought "his time with the Vikings was finished and that all he wanted to do was to compete in the NFL and not be 'blackballed.'"
More from the investigation results:
"The record fails does not support the claim that the Vikings released Kluwe because of his activism on behalf of same-sex marriage, but instead because of his declining punting performance in 2012 and potentially because of the distraction caused by Kluwe's activism as opposed to the substance of such…The objective evidence, in addition to the subjective evaluation of coaches, special teams staff members and external evaluators, simply contradict Kluwe's view of his performance in 2012. No interviewed witness agreed that Kluwe had a good year in 2012…There is also the issue of Kluwe's age (31) and salary ($1.3 million) in 2012 and slated salary of $1.4 million in 2013. Several coaching staff members noted that Kluwe's age, previous knee injury and leg strength showed a punter in decline. Also, the Vikings were able to sign drafted punter (Jeff) Locke for $405,000, less than one third of Kluwe's scheduled 2013 salary…In grading Kluwe, (Angelo and Hentrich) considered criteria, including but not limited to: (1) get-off time; (2) gross punting average; (3) net punting average; (4) hang time; (5) directional punting; and (6) pooch punting…Angelo said that if he held the title of General Manager for the Minnesota Vikings for the 2012 season, he would have "in all likelihood" released Chris Kluwe as the Vikings punter."
The Vikings also questioned Kluwe's locker room behavior, including the time he supposedly dropped his pants in front of 20-25 business people as they were touring the Vikings locker room.
The investigators also found that Kluwe made fun of Tom Kanavy, the former strength coach who had attended and coached at Penn State.
From the report: "In his interview [with investigators], Kanavy explained that Kluwe cut the seat outof his pants and then put them on to imitate a victim of the Penn State child-abuse scandal. According to Kanavy, Kluwe said that he was a 'Penn State victim' and to 'stay away' from him while his buttocks were exposed."
Over half the team did it for over a month, including asking him if he "raped any little boys lately," repeatedly, in front of coaches.

— Chris Kluwe (@ChrisWarcraft) July 19, 2014
Said owners Mark Wilf and Zygi Wilf:
"We are very disappointed with some of the findings contained within the report. As we have said in the past, we consistently strive to create -- and believe we have -- a supportive, respectful and accepting environment for our players, coaches and staff, and we strongly disassociate the club from the statement that Coach Priefer made. Coach Priefer is a good man, and we know that he deeply regrets the comment. We do not believe that this error in judgment should define him.
"Accountability, however, is important both on and off the field. In this instance, Coach Priefer fell short of what is expected. Accordingly, we have decided to suspend Coach Priefer without pay for the first three games of the 2014 regular season. In addition, he will be required to satisfactorily complete specialized workplace training that will include an emphasis on the managing of diversity and sexual orientation. If Coach Priefer completes this training and conducts himself in accordance with our workplace policies, we will consider reducing the length of his suspension by one game.
"We will continue to hold all team members accountable and take the outlined critical steps to further educate everyone within our organization both individually and collectively. We will accept nothing less than creating a franchise that Minnesotans and Vikings fans everywhere can be proud of on and off the field."