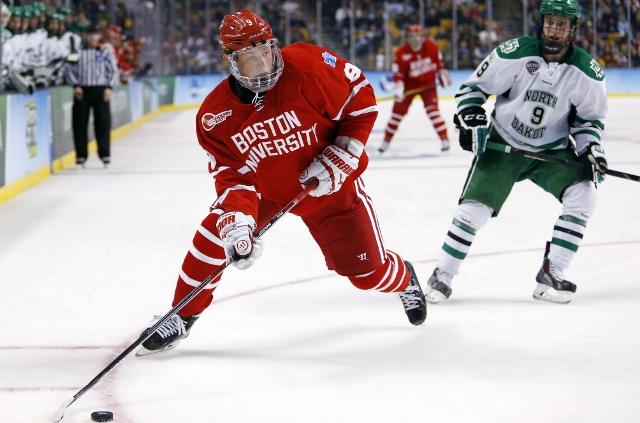 SUNRISE, Fla. – Buffalo Sabres fans may finally be able to see the light at the end of the tunnel after dealing with a painful rebuild and one of the more dreadful seasons in NHL history. The pain and suffering should fade a bit as the club selected Boston University center Jack Eichel with the second overall pick in the draft.
The talented freshman forward had a historic season at BU, notching 71 points in 40 games as the Terriers ended the season as national runner up. Eichel was awarded the Hobey Baker Memorial Award as college hockey's best player, only the second first-year player to win the award in its history.
The only reason it made sense for teams to tank (and the Sabres were built seemingly for this purpose in 2014-15) was because the No. 2 pick was so good this year. With the draft lottery leaving no guarantee that the last-place team would get the first-overall pick, not being able to fall any more than one slot ensured they'd at least have a safety net in Eichel. Any other year and Eichel would have gone first overall, but he happened to have generational talent Connor McDavid ahead of him.
General manager Tim Murray has already started the building for next season. He acquired Evander Kane and Zach Bogosian from the Winnipeg Jets in one of last season's biggest blockbuster trades. Earlier Friday he landed potential No. 1 goalie Robin Lehner from the Ottawa Senators along with veteran center David Legwand. Then he went out and got Ryan O'Reilly and Jamie McGinn in another blockbuster. Add in the promising young players like Zemgus Girgensons, Rasmus Ristolainen and last year's No. 2 pick Sam Reinhart and there's something there for Sabres fans to get really excited about.
No one likes to lose, but the Sabres needed a dramatic changein their lineup. All of that losing over the last three years has paid off in some strange way. Eichel is the kind of player that can change the franchise's fortunes around. He may not be McDavid, but with the direction the Sabres are heading already, he doesn't have to be. That doesn't lessen the pressure though.
Eichel may always be compared against McDavid for the rest of his career. If he never tops McDavid's numbers or impact, Eichel can fulfill his hype by being the first step in the ladder on the way out of this deep hole they Sabres have fallen into.