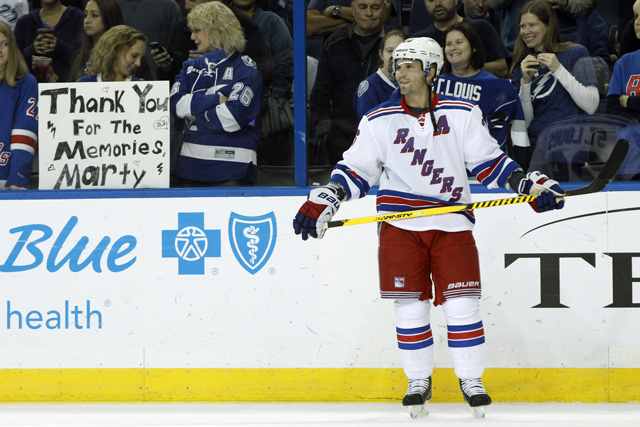 Though he probably could have drawn interest as an unrestricted free agent, Martin St. Louis has decided to retire from the NHL after 16 seasons. The 40-year-old came into the game as an underdog, but he'll leave as one of its more recent greats.
"I have been blessed to play for 16 years in the NHL; it has been an amazing ride," St. Louis said in a statement. "I have dedicated my life to being the best player I could be and now want to turn more of my focus to my three boys."
After going undrafted despite a brilliant career at the University of Vermont, St. Louis broke into the league as a free agent with the Calgary Flames following a year in the old International Hockey League. He appeared in just 69 games over two seasons before Calgary let him walk. The diminutive forward then signed with the Tampa Bay Lightning, changing both St. Louis' career and the Lightning franchise forever.
By his third year with the Lightning, St. Louis was a 30-goal scorer and put up 70 points. However, it was the 2003-04 season that would solidify the forward's place in the NHL history books.
By scoring 38 goals and 94 points in 2003-04, St. Louis won the Art Ross and Hart Trophies as the league scoring champion and MVP. He also helped lead the Lightning to the franchise's only Stanley Cup with 24 points in 23 games.
He also is a three-time Lady Byng winner and won the Art Ross one more time, at age 37, during the 2012-13 season.
St. Louis spent parts of the last two seasons with the New York Rangers, reaching the Stanley Cup Final in 2014 where the club fell just short, and making it to the Eastern Conference Final this year against the Lightning.
He is a two-time Canadian Olympian, earning the gold medal with Canada in 2014. He also helped Canada win the World Cup of Hockey in 2004.
Over 1,134 NHL games, St. Louis posted 1,033 points including 391 goals and 642 assists. He is likely headed to the Hockey Hall of Fame one day, and will remain one of the finest examples of an underdog who defied anyone who doubted him.