LISTEN: The rock and roll stardom of Cliff Ellis
There will be a coach in Friday's Virginia/Coastal Carolina game who experienced past musical success. And it isn't Tony Bennett.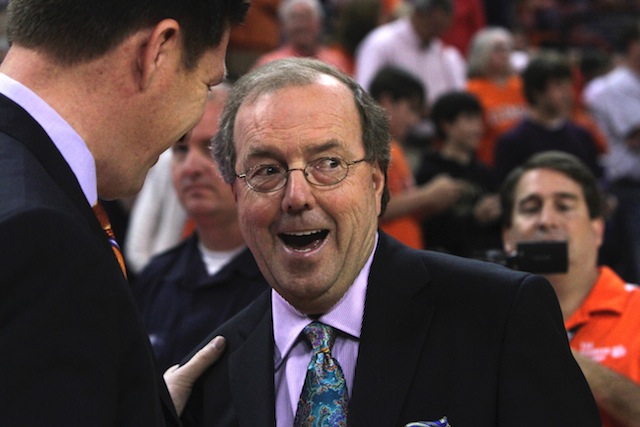 The years pass, but the names of the great figures in 1960's rock and roll history remain iconic.
Dylan. Hendrix. Brian Wilson. Coastal Carolina men's basketball coach Cliff Ellis.
Yes, before he led four different teams to the NCAA Tournament, including the Chanticleers who will be in action Friday against Virginia, Ellis was the singer in a band called The Villagers, which rocked the parties and dance halls of northwest Florida in the mid-60's. The Villagers recorded at the legendary FAME Studios in Muscle Shoals, Alabama in March 1966, laying down the single "Laugh It Off" (originally a b-side for a beach music group called The Tams), backed with The Beatles "You're Going To Lose That Girl." That's Ellis you hear on vocals.
Ellis writes extensively about The Villagers years in his book, The Winning Edge, noting that his time as a performer helped him overcome his shyness and embrace a career in which he's had to be a different kind of front-man. In addition to recording another single at FAME ("Thank You, Baby b/w "A Shot of Rhythm and Blues," which was issued by Atco/Atlantic in 1968), plus a song that Ellis writes was a No. 4 hit in the South ("Where Have You Been"), the future South Alabama, Clemson and Auburn coach played tambourine on soul legend Etta James' version of "Tell Daddy."
Ellis was asked about his brush with musical history at Thursday's pre-tournament press conference in Raleigh:
"It's no secret that the Villagers was a music group I was with in the 60's and we had a recording contract with Atco records and I gave it up in '68 for coaching but I had a great journey. Playing with people like Roy Orbison, Etta James, just some tremendous people. And I learned a lot from it. 
"I gave it up for coaching, but the media has never let it go, which is good. If people like it or get a kick out of it. We're going to the big dance: a song I did some years ago called 'Dancing in the Moonlight,' is back up. Have fun with  it, enjoy it, go to iTunes, have a ball with it. I don't mind it at all. 
"And our players? Yes. It's on the bus. I've never allowed my players to listen to much of my music, but I said, 'Guys, you can enjoy this as much as you want to, make fun of it and here it goes."
Ellis' counterpart on Friday, Virginia's Tony Bennett, might have the name. But Cliff Ellis has the soul. 
(Chip Patterson contributed to this post).
Calipari threw major shade at Duke and the coaching staff's recruiting pitch

Brown is the No. 2 center in the Class of 2018 and a big get for the Bruins

The Sooners are on a two-game losing streak but still rising on one AP ballot
Vegas legend Kenny White has nailed 3 straight UNC picks and just made a play for Monday's...

Josh Nagel has almost two decades of handicapping experience and locked in a play for Monday's...

The Wildcats stumbled to an 0-2 record this week and fell out of the top 25