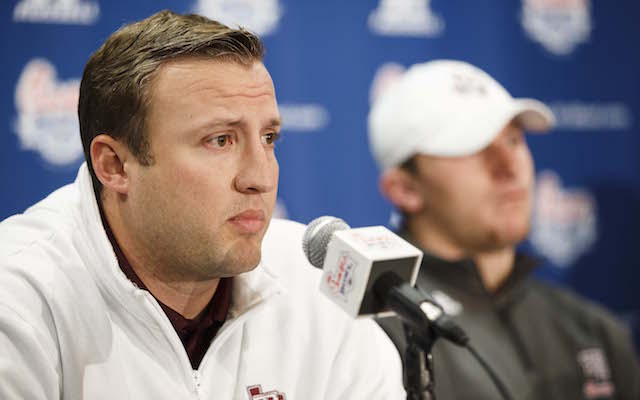 Jake Spavital will be the new offensive coordinator at Cal, CBS Sports has confirmed.
The former Texas A&M OC replaces Tony Franklin, who resigned to the take the same position at Middle Tennessee. Spavital, 30, recently left Texas A&M after three seasons in what was termed a mutual parting of ways.
Considered one of the bright, young offensive minds in college football, Spavital was a graduate assistant at West Virginia at a time when he was two years younger than the quarterback he was tutoring -- Brandon Weeden.
Spavital helped recruit and remains close to former blue-chip Aggies' quarterbacks Kyle Allen and Kyler Murray, neither of which remained at Texas A&M as he departed this offseason. He was also largely responsible for getting TAMU a commitment from five-star QB Tate Martell of Las Vegas' Bishop Gorman, 247Sports' top dual-threat quarterback in the nation for 2017.
Spavital replaced Kliff Kingsbury in 2013 after Kingsbury left to coach Texas Tech. At age 27, Spavital became the Aggies' co-offensive coordinator and quarterbacks coach. He was elevated to being the sole OC in 2014.
At Cal, Spavital will dive in immediately finding a replacement for Jared Goff, the Pac-12's leading passer.
Spavital's move was first reported by Fox Sports.
A formal announcement from Cal may come as soon as Thursday.