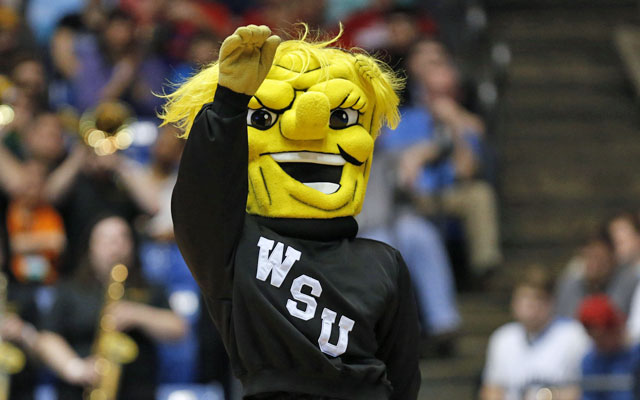 Individuals representing Wichita State's athletic interests have approached the Mountain West Conference about membership, multiple sources told CBS Sports.
Led by president John Bardo, Wichita State has been exploring its conference options in basketball and football. Last year, Bardo commissioned an ongoing feasibility study to bring football back to the athletic program. The school dropped the sport in 1986.
The 12-member Mountain West has only 11 basketball-playing members; Hawaii plays basketball in the Big West. Wichita State might value its basketball on a larger stage with momentum created by highly successful coach Gregg Marshall.
Through a spokesman, Bardo declined comment.
Mountain West commissioner Craig Thompson said he did not have direct contact with Bardo or Wichita State officials. He added that if Wichita State plans to park its basketball program in a new conference, "It ain't going to be us."
One source told CBS Sports it's a simple case of economics. The league would be splitting its media rights revenue 12 ways instead of 11 in basketball if it added the Shockers.
One MWC source considered it unlikely that Mountain West's media rights holders (ESPN, CBS Sports Network) would renegotiate their current contracts to include additional revenue for a 12th basketball school.
The Missouri Valley Conference is aware of Wichita State's desire for upward mobility. Marshall's success has helped brand the program and the MVC as high mid-major entities -- at least. The Shockers have advanced to a school-record five consecutive NCAA Tournaments, reaching the Final Four in 2013 and going 35-1 in 2013-14.
Wichita State has played in the Missouri Valley since 1946.
Other possibilities for the Shockers, including the American Athletic Conference and Conference USA, have been mentioned by various sources.
Sources told CBS Sports that Conference USA would not accept a basketball-only school. Given the upheaval caused by UAB dropping football, it would be unlikely the league would welcome Wichita State with an upstart football program.
Texas-El Paso has been mentioned as a possible 12th MWC member in basketball (13th in football). Many of the Miners' former WAC partners reside in the Mountain West. The Miners have been in Conference USA since 2005-06.
UTEP officials have stressed there is no formal interest on their part in the Mountain West.
If Wichita State adds FBS football, it would cost in the neighborhood of $50 million to build the program from scratch, several industry sources told CBS Sports. A renovation of Cessna Stadium, the old football facility, would cost at least $20 million alone.
Documents updating the progress of that football feasibility study are expected to be publicly available within 30-45 days.