Week 27 schedule analysis
Get your playoff squad in position to win with Brian Rutherford's latest NHL schedule analysis.
*GRS= Games Remaining this Season
**B2B= Back-to-Back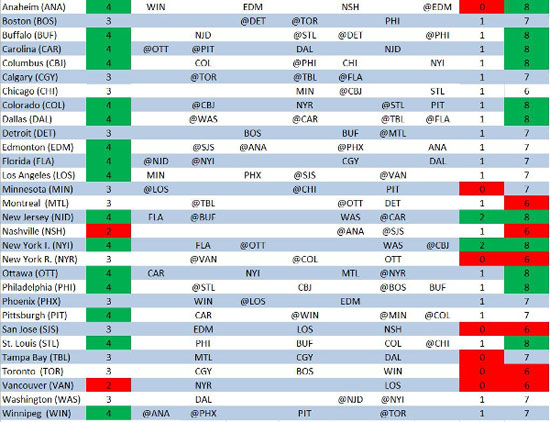 Four of a Kind
With more than half (16) of the league playing four games this week, there's just one team playing four games without a b2b occurrence.
Anaheim (WIN, EDM, NSH, at EDM) has a wonderfully easy schedule and no b2b occurrences. With their playoff hopes locked up, does head coach Bruce Boudreau start giving Jonas Hiller a bit of a break down the stretch? Frederik Andersen proved to be trustworthy in Saturday's win over Vancouver and Hampus Lindholm received a maintenance night off.
Eights Are Wild
The following 8 teams not only play four games with a b2b occurrence this week, but have four games remaining in the final week of the season as well.
Buffalo (NJD, at STL, at DET, at PHI) has acombined record of 1-5-1 against this week's opponents. Zemgus Girgensons (lower body) returned to the lineup on Saturday. Matt Hackett has been up and down like the rest of his team.
Carolina (at OTT, at PIT, DAL, NJD) has a combined record of 3-5-1 against this week's opponents. Andrei Loktionov (three goals, three assists in his last six games) has been impressing head coach Kirk Muller and the FA pool rankings.
Columbus (COL, at PHI, CHI, NYI) has a combined record of 4-4 against this week's opponents. Artem Anisimov snapped an eight-game point drought on Saturday. Sergei Bobrovsky was well enough to serve as back-up on Saturday, so head coach Todd Richards will likely resume regularly scheduled goaltending this week, though Curtis McElhinney should still get a start this week.
Colorado (at CBJ, NYR, at STL, PIT) has a combined record of 2-4 against this week's opponents. Matt Duchene (knee) left Saturday's game against the Sharks and underwent an MRI on Sunday.
Dallas (at WAS, at CAR, at TBL, at FLA) has a combined record of 2-2 against this week's opponents. Erik Cole (upper body) did not play in Saturday's win. Ryan Garbutt has three goals in last two games.
Ottawa (CAR, NYI, MTL, at NYR) has a combined record of 2-4-3 against this week's opponents. Craig Anderson returned to the lineup and had one of his on-nights (46 of 49 shots) on Saturday.
Philadelphia (at STL, CBJ, at BOS, BUF) has a combined record of 5-3 against this week's opponents. Steve Downie (head) took part in practice on Saturday but is being treated like a concussion case.
St. Louis (PHI, BUF, COL, at CHI) has acombined record of 7-2 against this week's opponents. Alexander Steen has three goals and four assists during his current four-game point streak.
Back-to-Back Jacks
In Back-to-Back Jacks, we have two teams playing four games all on back-to-back occurrences.
Despite a lot of frequent flyer miles, New Jersey (FLA, at BUF, WAS, at CAR) has an advantageous schedule. Three of four of their opponents already have their eyes on next season's training camp. More importantly, it appears both Martin Brodeur and Cory Schneider will be needed with two b2b occurrences. Eric Gelinas, who has been playing forward, played nearly four minutes of power-play time in Thursday's loss. Stephen Gionta left Saturday's game with an undisclosed injury. The Devils are 10-5-4 when playing games on consecutive nights.
Much like New Jersey, the Islanders (FLA, at OTT, WAS, at CBJ) have a weaker schedule consisting of two in Uniondale and two on the road. Unlike New Jersey, they simply don't have the netminder arsenal to consider for such an occurrence. Ironically enough, Anders Nilsson made 23 saves in a 2-1 win over New Jersey on Saturday. After going 0-6-1 on the back half of b2b games, the Islanders are a respectable 5-3 in their last eight games occurring on consecutive nights.
Three of a Kind
The following six teams have just six games remaining in the regular season.
Can't believe we're saying this, but Chicago (MIN, at CBJ, STL) is limping to the finish line. Marian Hossa hasn't missed a beat.
Detroit (BOS, BUF, at MTL) has two of three at home, but all are division rivals with an agenda of some sort. Justin Abdelkader (leg) practiced on Saturday and was considered day-to-day on Sunday. Gustav Nyquist has really been a contributor.
Montreal (at TBL, at OTT, DET) is one of the hotter teams as we enter the final 14 days of play and Max Pacioretty (11 points over his last 10 games), Thomas Vanek (10 points in last seven games) and Carey Price (9-1, 2 SO in last 10 games) have had a lot to do with that. Tomas Plekanec (personal) did not play on Saturday.
Despite winning five in a row, after losing Chris Kreider (wrist) and Friday's tilt in Calgary, the Rangers' (at VAN, at COL, OTT) situation has changed a bit. With Kreider gone, head coach Alain Vigneault is toying with his lines and all-of-a-sudden forward Daniel Carcillo could have the biggest fantasy impact. John Moore (concussion) may return to the lineup next week, for now Raphael Diaz has been soaking up his third-pairing time.
San Jose (EDM, LOS, NSH) has punched their ticket to the playoffs and are mucking (lost two in a row) around at the moment. Jason Demers (illness) missed Saturday's game against Colorado.
Losers of eight straight, Toronto (CGY, BOS, WIN) is still just two points out of the final wild card. However, Jonathan Bernier hasn't been much better than James Reimer.  Jake Gardiner has 10 points in his last 10 games.
One Pair
Nashville (at ANA, at SJS) has two tough matchups. Patric Hornqvist is enjoying life as of late and Calle Jarnkrok has a goal and four assists through five games played. Pekka Rinne has allowed 20 goals in his last five games.
Other than a grudge match between Vancouver (NYR, LOS) and the Rangers seeming juicer, not much else here. Perhaps head coach John Tortorella will attempt to get into the Rangers locker room?
Muck 'Em?
Two more teams out of something to play for, is it time to cut bait?
Calgary (at TOR, at TBL, at FLA) is holding tough, just ask the Rangers. Fact is, they have off Monday, then have three games in four days. Michael Cammalleri has eight points over his last five games. With Ladislav Smid (upper body) questionable, the Flames have recalled defenseman Chad Billins from the AHL. Billins has 37 points through 58 games with Abbotsford.
Florida (at NJD, at NYI, CGY, DAL) has two on the road, then finish the season on a five-game homestand. With Roberto Luongo (upper body) day-to-day, Scott Clemmensen has been recalled to backup Dan Ellis.
GOALTENDING CAROUSEL: Ilya Bryzgalov turned in a solid one goal performance against Phoenix, perhaps leaving Darcy Kuemper on the outside looking in. Speaking of the 'Yotes, Thomas Greiss has been up and down since taking over for Mike Smith (lower body). Smith is expected to be re-evaluated in a week. Former first round pick and two-time junior's medalist Mark Visentin has been called up to the big club. Ondrej Pavelec returned in Saturday's loss and then so did Al Montoya.
Not sure which defensemen you should target in your Fantasy draft this season? Jason Chen is...

Most Fantasy leagues are won in the later rounds of drafts, so set your sights on these burgeoning...

Evan Berofsky previews the NHL's top 10 power-play units heading into the 2019-20 campaign.
Sasha Yodashkin previews some of the NHL's most intriguing positional battles heading into...

AJ Scholz recaps this offseason's biggest free agent signings.

Jon Litterine recommends which NHL rookies could help your Fantasy team in 2019-20.