The Cleveland Indians defeated the Chicago Cubs 1-0 in Game 3 of the 2016 World Series on Friday night. Though it was Wrigley Field's first World Series game in more than 70 years, the Indians nonetheless ruined the celebration behind a strong effort from their pitching staff.
For the second time in the series, Cleveland pitched a shutout, with Josh Tomlin, Andrew Miller, Bryan Shaw, and Cody Allen combining to do the deed. Coco Crisp, meanwhile, provided the game's lone run via a pinch-hit single in the seventh.
Here are 14 things to know about an incredibly entertaining Game 3.
1. Francona's gamble worked out ... again
This has been a charmed postseason for Indians manager Terry Francona. His team has been hit hard by injuries and he's made some outside-the-box moves to compensate, and, by and large, they've all worked. Whether it's using Andrew Miller in the fifth inning or starting Ryan Merritt, it works. Francona's moves have been damn near flawless.
In the seventh inning of Game 3, Francona faced a very difficult decision. The game was still scoreless, but the Tribe had runners on the corners with one out. Due up? Andrew Miller, a reliever who hasn't batted since 2011. Miller had retired all four batters he faced on 17 pitches, including striking out the side in the sixth. He was razor sharp.
In a perfect world, Miller would have gone out for the seventh inning too. Instead, Francona decided to pinch hit, because the Indians needed a run more than they needed another inning from Miller. Miller was lifted for pinch-hitter Coco Crisp, and according to our instant Twitter poll, most fans would have let Miller hit there.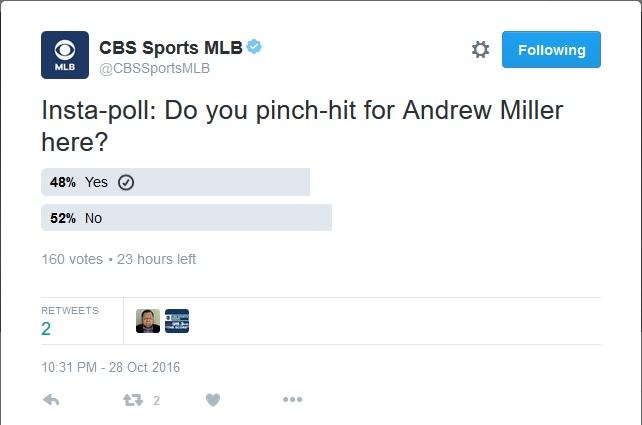 Naturally, Crisp delivered a run-scoring single on the very first pitch of his at-bat. Francona's decision to pinch hit worked.
Miller was out of the game and that stinks, sure, but more importantly, the Indians had a 1-0 lead on the scoreboard. That 1-0 lead stood up too.
Added bonus for Cleveland: The 17 pitches mean Miller will be available in Game 4, almost certainly for more than three outs, if needed.
2. Allen's been awesome too, you know
Miller is getting all the attention and deservedly so, but let's not forget about Cody Allen this postseason either. He recorded the final four outs of Game 3, including striking out Javier Baez to end the game with the tying run at third and the winning run at second.
This was Allen's sixth save of the postseason, and he's now struck out 19 batters in 10 1/3 scoreless innings. Allen's dominance in the ninth (and sometimes eighth) inning is what gives Francona the flexibility to use Miller earlier in the game. That's led to this:
Indians haven't lost a game this season in which both Andrew Miller and Cody Allen pitched (22-0 including postseason)

— ESPN Stats & Info (@ESPNStatsInfo) October 29, 2016
It's 23-0 now. There is some selection bias there -- Miller and Allen usually only pitch when the Indians are winning -- but the point stands. Those guys are being handed leads and they make them stand up. Allen shouldn't be overlooked. He's been awesome all October.
3. The Indians threw another shutout
With this 1-0 win, the Indians are now the first team in baseball history to throw five shutouts in a single postseason. They've played 11 games. Now obviously they've had more chances to do it than most teams throughout history thanks to divisional play, but still, that's incredible. They haven't had Carlos Carrasco or Danny Salazar in the rotation, remember.
The Cubs, on the other hand, are the second team in history to be shut out four times in one postseason, joining the 1905 Athletics. All four shutouts have come in their last eight games too. The Cubbies were shut out only nine times during the regular season.
4. Grimm picked a good time to get his first double play
Kyle Hendricks was okay in Game 3. Not great, not terrible. Just okay. His night ended in the fifth inning after the Indians loaded the bases with one out. A single (Tyler Naquin), a bunt (Josh Tomlin), a walk (Carlos Santana), and a hit-by-pitch (Jason Kipnis) did the trick.
Cubs skipper Joe Maddon went to righty Justin Grimm in that spot to face Francisco Lindor, who up to that point was 2 for 2 in the game. Everyone figured the big hit was coming. Naturally, Lindor banged into the inning-ending double play. Check it out:
That was literally the first double play ground ball Grimm generated in 2016. He didn't get one at all during the regular season. Grimm's fist pump says it all. Huge play. How huge? The hugest of the entire season, according to one metric:
Grimm is maybe the fifth-best reliever in Chicago's bullpen, yet he rewarded Maddon's faith with that massive double play. That kept the game scoreless and for it a while it felt like the momentum had swung in the Cubs' favor, but it didn't help.
5. Lindor got picked off at a very bad time
Scoring first in any game is huge. It goes without saying. Historically, the team that scores first goes on to win about 70 percent of the time. Take the first lead in the postseason and suddenly your opponent is on their heels.
The Indians had a chance to score first right in the very first inning of Game 3, when Jason Kipnis and Francisco Lindor strung together back-to-back singles. They had runners on the corners and a chance to score a run on an out. Instead, Lindor got picked off first by Kyle Hendricks.
With runners on first and third and one out, teams score a run approximately 63 percent of the time. With a runner on third and two outs, it drops to 26 percent. The pickoff was huge. Also historic:
Hendricks is the first Cubs pitcher with a pickoff in the World Series.

— Kazuto Yamummy (@Kazuto_Yamazaki) October 29, 2016
The pickoff sucked the life right out of Cleveland's first-inning rally. (Mike Napoli struck out to end the inning.)
6. Hendricks saved a run with his glove
The Indians very nearly scored the first run of the game again in the fourth inning. They had runners at first and second with one out when Lonnie Chisenhall pulled a hard-hit grounder to first base. Anthony Rizzo fielded the ball and fired to second for the first out, but Chisenhall beat out the return throw to first to avoid the inning-ending double play. Here's the video.
The biggest part of the play was Hendricks making a scoop on Addison Russell's throw in the dirt. He was covering first base because Rizzo had to field the grounder way behind the bag. If that ball scoots by Hendricks, it goes into foul territory and the runner at third likely scores. The Cubs didn't get the double play there, but the scoop still saved a run. Hendricks retired the next batter to end the inning and keep the game scoreless.
7. Santana was fine in left field
The Indians took a calculated risk in Game 3 by playing Carlos Santana in left field. He is usually their DH, but the team didn't want to take his power bat out of the lineup, so they stuck him in the outfield. It was Santana's first career big league start in left.
Per Elias, Santana was 1st player to start a WS game at position he never previously started since 1931, when StL's Jake Flowers played 3B.

— Jordan Bastian (@MLBastian) October 29, 2016
All in all, it went just fine. Santana had one ball hit in his direction and it was as routine as it gets. He caught it with no problem. Santana also went 0 for 1 at the plate with two walks before being removed as part of a double switch in the fifth inning.
That's exactly what the Indians were hoping to get from Santana. Catch what you're supposed to catch, get on base a few times, then we'll get you out for defense. For at least one game, the experiment was a success.
8. World Series woes at Wrigley continue
This was the first World Series game in Wrigley Field since 1945, and like so many of the previous World Series games at the ballpark, it ended with a loss for the Cubs.
Also, the Cubs are now 2-13 all time at Wrigley Field in World Series games.

— Jon Tayler (@JATayler) October 29, 2016
Yikes. The Cubs went 0 for 7 with runners in scoring position in Game 3. They had their chances. Credit Cleveland's pitchers.
9. John Hirschbeck's strike zone was terrible
Especially early on. He has always been a pitcher's umpire, but Hirschbeck took it to another level in Game 3. Look at his called balls and strikes, via Brooks Baseball: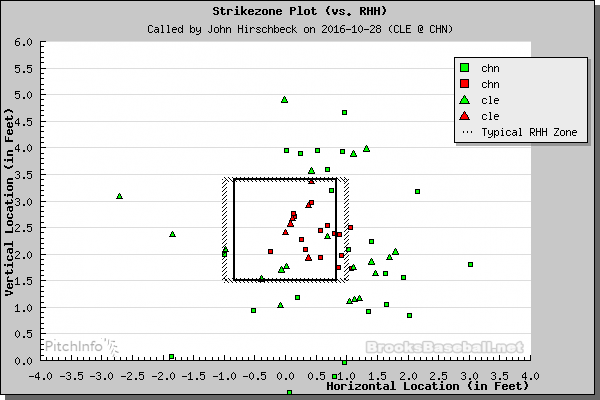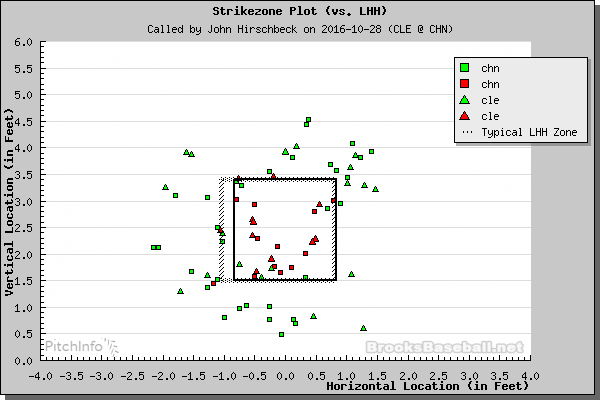 Hirschbeck's strike zone was awfully big. Hendricks seemed to get more than a few calls on pitches that were several inches off the plate. Players on both teams complained.
Welp.
10. Strat-O-Matic nailed the final score
As predicted by Strat-O-Matic, the final score of Game 3 was 1-0. How about that? Sure, some other details predicted by Strat-O-Matic were wrong (hit totals, etc.), but they got the final score right, and that's what counts.
11. Bill Murray was Daffy Duck
Comedian and native Chicagoan Bill Murray sang "Take Me Out To The Ballgame" during the seventh-inning stretch, and he did it as Daffy Duck. Check it out:
I feel bad for whoever had to use that microphone next. Spit everywhere.
12. Progressive Field was packed
Game 3 was played in Wrigley Field, but about 350 miles east, the Indians were holding a World Series watch party at Progressive Field. The place was packed:
That's awesome. Love to see it. Those World Series watch parties are surprisingly fun, you know. It's such a different atmosphere than an actual game. It's just a bunch of people hanging out at the ballpark watching television. It's pretty cool.
13. The Indians are in the driver's seat now
According to WhoWins.com, teams with home-field advantage that take a 2-1 lead in a best-of-seven series have gone on to win the series 76.1 percent of the time, historically. Now, that said, the Cubs just came back from a 2-1 series deficit in the NLCS, plus most teams throughout history are not as good as these Cubs.
The Indians are in great shape. No doubt about it. This series is far from over though. The Cubs are a handful.
14. The Cubs can't win the World Series at Wrigley
Considering how long they've been waiting, I'm sure Cubs fans wouldn't care if the game was played on the moon as long as their team won the World Series. The Cubs can't win the World Series at home this year, though. It's impossible thanks to the Game 3 loss. If they do rally to win this series, the deciding game will be played in Cleveland. Clinching the team's first championship in 108 years at Wrigley sure would have been something, huh?