2012 NBA Playoffs Preview: Oklahoma City Thunder vs. Dallas Mavericks
Eye on Basketball presents the 2012 NBA playoffs first round series previews. In this edition, the Oklahoma City Thunder and the defending champion Dallas Mavericks.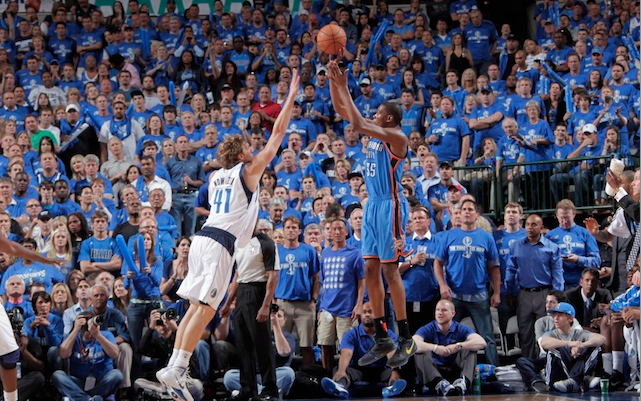 It's Dirk and KD, round two.
(Getty Images)
Eye on Basketball presents the 2012 NBA playoffs first round series previews. In this edition, the Oklahoma City
Oklahoma City Thunder
and the defending champion Dallas
Dallas Mavericks
.


BIGGEST STRENGTH
Oklahoma City: Weapons.
No way around it -- the Thunder are stacked. In terms of a first eight, there may not be as talented a team in the league, including the Heat. Focus on
Kevin Durant
, deal with
Russell Westbrook
. Focus on Westbrook, deal with Durant. Focus on both and deal with
James Harden
and his sparkling beard. What have made the Thunder special this season is the ability to incorporate all three into a terrifying tri-headed beast. Between the three stars, Oklahoma City is getting 68.4 points per game. That's 66 percent of the team's total output. It's simple for the Thunder: One of those guys plays well, they're average. Two play well, they're pretty good. Three play well, they're close to unbeatable.


Dallas: Championship chops.
The Mavs do a lot of things well, but they have something the other teams are chasing. They're the champs. They've been through this, they know what it takes and maybe most importantly, they have the self-belief to make it happen again. There's been a feeling watch the Mavs this season that they were just holding out for the postseason. That they only wanted a ticket into the dance, not a great seat. That's what they've got and they drew a tough card in playing the young and hungry Thunder, but this group is built for it. Why? Because they've done it before
.

BIGGEST WEAKNESS
Oklahoma City: Crunch time offense.
Scott Brooks and his staff still probably have nightmares about Games 4 and 5 from last year's Western Finals. Double-digit fourth quarter leads lost not because of shoddy defense, but because the OKC offense up and died. The Thunder turned completely into an isolation only team that relied entirely upon one of their stars making a shot. When it failed, OKC wasn't able to score. For the most part, Brooks and his staff appear to have corrected most of it, as the Thunder rank second in offensive efficiency. And for a time, were a deadly clutch time team. But those old issues have popped up again, most recently in losses to the Lakers and Nuggets. Granted, both of those games were without James Harden who had been decapitated by Metta World Peace, but the point remains -- the Thunder have to find points the last five minutes the way the found them the previous 43.
Dallas: Interior defense.
One thing to realize: This isn't the same Dallas team that won a championship. Yeah, core pieces are back like Dirk,
Jason Terry
,
Shawn Marion
and Rick Carlisle. But gone are J.J. Barea, DeShawn Stevenson and most importantly, Tyson Chandler. Without their stopper in the paint, the Mavs are turned to a combination of
Brendan Haywood
and
Brandan Wright
for size inside and while there have been some successes, this just isn't the same defensive club it was a year ago. Last season, that Dallas zone was something to be feared because of Chandler's impact inside. That's not there anymore. The Mavs sealed off Westbrook's lanes to the rim, challenged every and forced him 15 feet away from the basket to get his points. I'm not sure they can take the same approach this time.
X-FACTOR
Oklahoma City: James Harden.
There's a reason he's going to win Sixth Man of the Year and it's not just because his stats are nice. It's because he has an incredible impact on the game from the second he checks in off the Thunder bench. He spreads the floor, makes the Thunder offense dynamic and diversified, creates offense for others and eases any offensive tension between Westbrook and Durant. OKC's championship hopes may reside in that big black mass that Harden wears on his face.
Dallas:

Delonte West

.
The Mavs have their own all-world sixth man in Jason Terry, but West's play could be the difference. The Thunder have struggled defending pick-and-roll oriented guards this season like Chris Paul and Tony Parker, and with
Jason Kidd
not really being in that mold anymore, West could be a major difference. He's skilled in the pick-and-roll, can hit a pullup jumper and is a talented passer. J.J. Barea really hurt OKC last season, and while West isn't quite the same kind of pest, he could do damage in a similar way.
MATCHUP ADVANTAGE
Oklahoma City: Russell Westbrook.
Really, any game OKC enters, it has a matchup advantage at point guard. Because there aren't many people that can guard Westbrook. His combination of speed and size is stunning. The Mavs will use a combination of West, Jason Kidd,
Rodrigue Beaubois
and whoever else to corral the Thunder's gunslinging point man, but slowing Westbrook down is much easier said than done.
Dallas: Dirk versus anybody.
He lumbers around the court almost looking like he's set to fall down at any moment. But that's part of Dirk's incredibly deceptive game. He's got a quicker first step than almost anybody realizes, so if you try and crowd him, he takes you to the rim. The Thunder will try
Nick Collison
's physical (read: fouling) style,
Serge Ibaka
's athleticism,
Kendrick Perkins
's savvy and maybe even Durant's length. None of it worked last season and while the Thunder have defended Dirk pretty well this year -- he's shooting just 44 percent against the Thunder in four games -- he's still Dirk and this is his time of year.
WILL WIN IF...
Oklahoma City:
If the Thunder simply put the demons of last season behind them and the last month of mediocre ball in the past, they're the better team. It really comes down to playing to potential, playing with energy and focus and making sure you're fully prepared. Execution is the name of the game for OKC and if the Thunder find points when they need them, they could take care of the Mavs quickly and do a little exorcising.
Dallas:
The Mavs can win this series, but they've got to make it ugly. In a lot of ways, the Thunder outplayed Dallas in the Western Finals last season, but the Mavs lived by a simple formula: Keep it close and let Dirk save us at the death.
THE PICK: Thunder in five | Read more expert predicitions
The inaugural BIG3 season comes to a close Sunday with the championship game

Thomas was traded to Cleveland yet some fans are taking it out on him ... and his jerseys

The Celtics dealt the No. 1 pick to Cleveland as part of the Kyrie Irving-Isaiah Thomas tr...
Thompson was rumored to have been a point of discussion with the Cavs regarding Kyrie Irvi...

What the Celtics and Cavs look like after the Eastern Conference powers swap point men

Simmons was the No. 1 pick in the 2016 NBA Draft but did not play last season