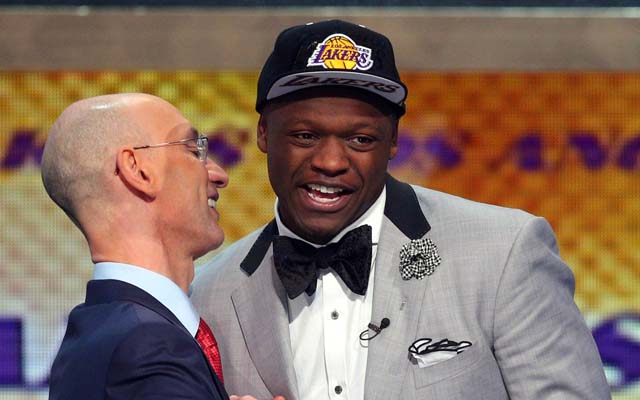 Offseason: Free Agency | Latest from Ken Berger | Rumors
Los Angeles Lakers forward Julius Randle figures to be one of the more interesting rookie stories next year. After spending most of the season as one of the top players in the nation as a freshman, Randle had a strong NCAA tournament but still fell to the seventh pick based on concerns about his wingspan, versatility and positional fit. 
Is Randle a power forward?  A small forward? Is he an example of the dreaded "tweener" model? Yet Randle also projects to potentially be one of the most NBA-ready players of the rookie class.
Lakers blog Forum Blue and Gold posted an interesting discussion of Randle after his performance at Summer League, and used an interesting comparison that isn't 100 percent translatable, but does bring up some interesting ideas. FB&G suggests that there are ways Randle compares to former Laker and enigmatic forward Lamar Odom. 
First, it should be pointed out that no one is really that much like Odom and the differences between him and Randle are substantial. They have different body types -- Odom was long and lanky, Randle is more compact and powerful -- and, from what I can tell so far, definitely possess different on-court personalities -- Randle seems to be much more of an "alpha" player whereas Odom was very much of a player who did the smaller things well and shifting his game to fit the team's needs.

But, in looking past those differences, there are some strong similarities. Besides the left-handedness, Randle's aforementioned ability to play out on the floor and take advantage of his ball handling skill is very much like LO. Add in the nice mix of passing, touch around the rim, and sneaky athleticism (though Randle seems to have even more than Odom did) and there is a good comparison to be made.

What also reminds me of Odom, however, is that some people are already starting to talk as if Randle should play some small forward in order to take advantage of skills that remind of a perimeter player more than a classic big man. And, much like Odom, I think that would be a major mistake in utilizing those skills.

Randle, like other big men who possess some perimeter skills, are best maximized by pitting those skills against players who are not used to defending in space. Put a 6'10″ player on the perimeter and tell him to defend a like sized player who just so happens to be able to put the ball on the floor with skill and quickness and the advantage will almost always lie with the player who possesses the ball. Big players normally lack the needed lateral quickness to stay in front of such players. Add in the advantages that come with drawing that bigger defender away from the paint and the benefits to an offense only increase via better spacing for the entire team.

Of course, the natural counter to that argument is that if you have a big man who can score in the paint via post ups -- like Randle can -- can't you gain similar advantages by punishing smaller defenders while playing him at small forward? The answer, however, isn't as straight forward. Yes, in an individual match up you can, potentially, exploit smaller players. But what you also do is crowd the area below the FT line and decrease spacing. Helping against this player is also easier as it usually allows either a PF or C who is roaming in the basket area to slide over more quickly and help erase that advantage. When you combine that with the decrease in spacing, offenses are more easily gummed up as ball movement suffers and defenses do not have to scramble as much.
via Julius Randle and Misusing Versatility | Forum Blue And Gold.
It's an interesting concept, from the perspective of "This is how you make a tweener effective." That's the secret, really. Tweeners who are good and effective are "combo forwards." Combo forwards who can't produce at either position because of their size and speed deficiencies are termed "tweeners."
One issue is that Randle will have to learn how to effectively work face-up out of the post on the fly. Last year at Kentucky he was 17 of 43 on drives, but face-up out of the post, just 3 of 10 according to Synergy Sports. In summer league, he was 5 of 10 on drives but almost never worked face-up, at least according to Synergy's logging. 
Odom was of course a brilliant passer and rebounder. Randle is an underrated passer, in particular his cross-court passes out of those driving situations are very good and he'll be able to find corner shooters consistently ... if he gets playing time. (We'll get there in a second.) Rebounding figures to be a strong point as well. But Odom was hyper-long and wasn't limited in terms of his lateral quickness, in fact it was a strength that allowed him to play small forward before he began to have all the mental issues he suffered late in his career. More than that, Odom's game was even better built to take advantage of the face-up because he was creative. And while it remains to be seen whether Randle has that in him or not, he's simply not as athletically gifted to produce in the same way, stylistically. 
The bigger problem? Randle is facing stiff competition at the power forward spot. The Lakers brought back Jordan Hill, signed Ed Davis, and then grabbed Carlos Boozer off the amnesty waiver wire. Each of these acquisitions, in order, become more frustrating for those that want to see Randle A. have a chance to succeed and B. watch the Lakers actually play their young talent instead of wasting another year watching Carlos Boozer miss leaners while screaming "and one!' 
There are a number of things stacked against Randle at this point, but as FB&G points out, there are models that could help.