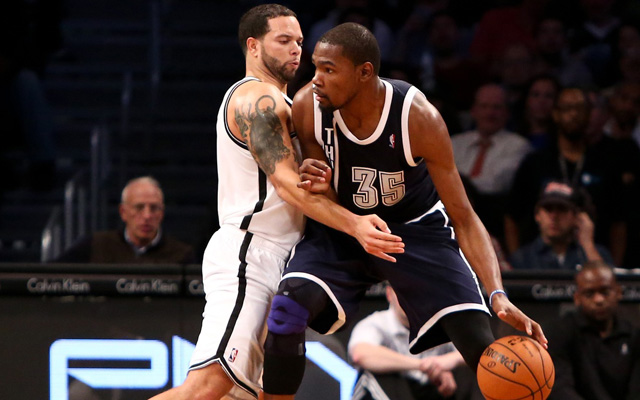 If Kevin Durant has anything to say about it, our nationwide manhunt for a nickname for him will continue. 
The past few weeks, the moniker "Slim Reaper" has caught on, and it fits well considering Durant's thin frame and the fact his crushes souls on the basketball court. There have been cool pictures, photoshops, t-shirts and a bunch of other stuff done for it. 
But what does Durant think?
"That name is what it is," Durant said at shootaround Monday. "It's cool to have a nickname somebody else gave to you. It's kind of weird if you make your own nickname up. But to have that out there, I guess, is cool. "I'm here to shine a bright light. I'm not here to be a guy of, I guess, death. We'll see what happens with that, but I just like KD better."
The nickname, which originated on Reddit, took off like wildfire as Durant torched opposing teams routinely for 30, 40 and sometimes 50 points nightly. 
"Everybody's been loving the name. I think I'm the only one that really doesn't like it too much."
Other nicknames for Durant like "Durantula," "K-Smoove," "Flight 35" and "Easy 30" haven't seemed to really stick for whatever reason. The Slim Reaper moniker has a ring to it, and a feel that might have a little staying power. He might not like it, but that doesn't really matter. Unless you're Kobe, you don't choose nicknames; they choose you. 
But maybe just don't call him Slim Reaper to his face.