Steve Nash wants New York deal; can Knicks sell Suns on proposition?
Steve Nash wants New York, and New York wants him. The only questions are whether the Phoenix Suns will agree to send him there, and whether Nash will be the same without the coach who made him a two-time MVP.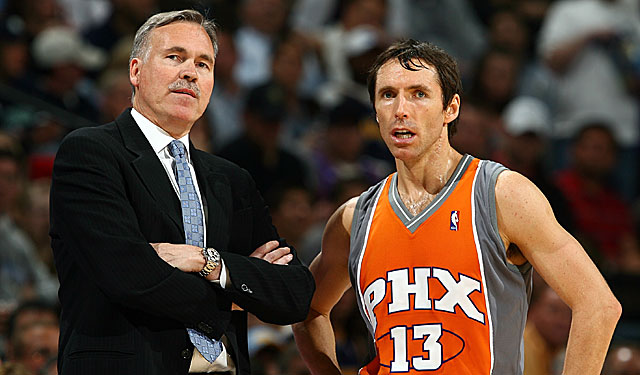 Does it make sense for the Knicks to go after Nash without Mike D'Antoni out of the picture? (Getty Images)
Steve Nash wants New York. That much is clear. It has to be clear, right? If Nash wanted the Toronto Raptors' $36 million, he would've taken it by now.
"He wants to go to New York," said a person who has been briefed on the strategy brewing in Nash's camp Wednesday. Another person familiar with Nash's strategy seconded that opinion.
Even Raptors general manager Bryan Colangelo seems to be conceding that his all-out effort to bring Nash back to his homeland may fail.
"We gave it our best shot," Colangelo told reporters.
Where's Nash going?
Related content
The only mystery is how Nash is going to get to the Knicks with anything close to the financial parameters that the Raptors can offer on the open market. The Knicks don't have that kind of cap space, and they have other problems -- namely, the three-year, $20 million offer sheet Landry Fields has agreed to with the Raptors and a possibly even richer one that Jeremy Lin is expected to get from the Rockets or Mavericks.
So a sign-and-trade is the only way, and what has to happen now is the Knicks have to sell the Suns on it. Nash can't get to New York on a comparable deal without Phoenix playing ball and sending him there. The sound out of the Suns' front office Wednesday was crickets, mixed with a giant helping of ambivalence. Can a Knicks package of Iman Shumpert and cap filler, plus the obligatory check from James Dolan to Robert Sarver, get it done?
The Knicks prefer to get a deal done without including Shumpert, their promising young defensive stopper, as well they should. Such, however, may be the price of doing business -- a hefty price for getting a point-guard maestro to solve the problem that no one has been able to solve yet: getting Carmelo Anthony and Amar'e Stoudemire to co-exist productively.
But that isn't the only intriguing aspect of this possible reunion of Stoudemire and Nash in New York. Far from it. How, exactly, does it make sense -- for the Knicks, and for Nash -- to land the point guard who piloted the offense that their deposed coach, Mike D'Antoni, invented?
For the three-plus seasons when D'Antoni was coach of the Knicks, Nash joining him someday was out there as a tantalizing possibility that would make the former Suns coach's offensive system flourish again. But Madison Square Garden doubled down on Anthony at the 2011 trade deadline, and D'Antoni stepped aside in March. The Knicks kept core principles of D'Antoni's offense, with a hearty dose of isolation sets built in for Anthony by the new coach, Mike Woodson. 
How does Nash make sense of it all without the coach who made him a two-time MVP? Would the Knicks be getting that same Nash without the coach who designed the car he drove in Phoenix all those years? The Knicks paid D'Antoni more than $20 million to coach without Nash, and now they'd be paying Nash more than that to play without D'Antoni. They better hope Nash can make the car run smoothly, even without his crew chief.
Kobe the rookie had no fear facing off against Michael Jordan the legend. Then he gave up a...

Once again the Jazz will be without Rudy Gobert due to injury. How will they fare?

Lorenzen Wright's ex-wife has been charged with his 2010 murder
Hayward, free of his walking boot as of Wednesday, says his mind is open to a return before...

The former Knicks star returns to New York for the first time since joining the Thunder

Former longtime Knick Carmelo Anthony makes his return to New York