Raptors extend offer sheet to Landry Fields in order to secure Steve Nash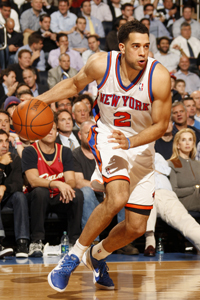 Landry Fields will be a very rich man as a collateral move for the Raptors.
(Getty Images)
OK, this gets kind of tricky, so try and follow along.
So, the basics: The Raptors have agreed to a three-year offer sheet with restricted free agent Knicks G Landry Fields, via Ken Berger of CBSSports.com. The deal is reportedly for $20 million, which is a hefty, hefty price for Fields, who has struggled since Carmelo Anthony was traded to the Knicks and has defensive issues. The contract has what's referred to as a poison pill, which means the third year of his contract spikes way higher than the rest of the deal per year.
So why did the Raptors drastically overpay Landry Fields, of all people?
To get Steve Nash.
Hey, I said it was tricky. Here's how it works.
The Raptors have offered Nash a three-year, $36 million deal which he has yet to sign. The Knicks were reportedly very interested in signing Nash, to the extent that there was talk of a double sign-and-trade with Phoenix involving the Knicks getting Nash and the Suns getting Fields. But Fields signing that offer sheet eliminates the possibility, because if the Knicks were to match the offer, he can't be traded, and if they don't match, they can't trade rights they don't own.
So, to sum up, the Raptors just invested $20 million dollars to a 24-year-old undersized guard who averaged less than 30 minutes per game last season, averaging 11 points and 5 rebounds per 36 minutes... just to screw over the Knicks.
This is the NBA at its finest.
This means that should the Raptors come to terms with Nash on the proposed offer, they would be paying $56 million for Steve Nash and Landry Fields.
I'm so glad we had the lockout to control spending.